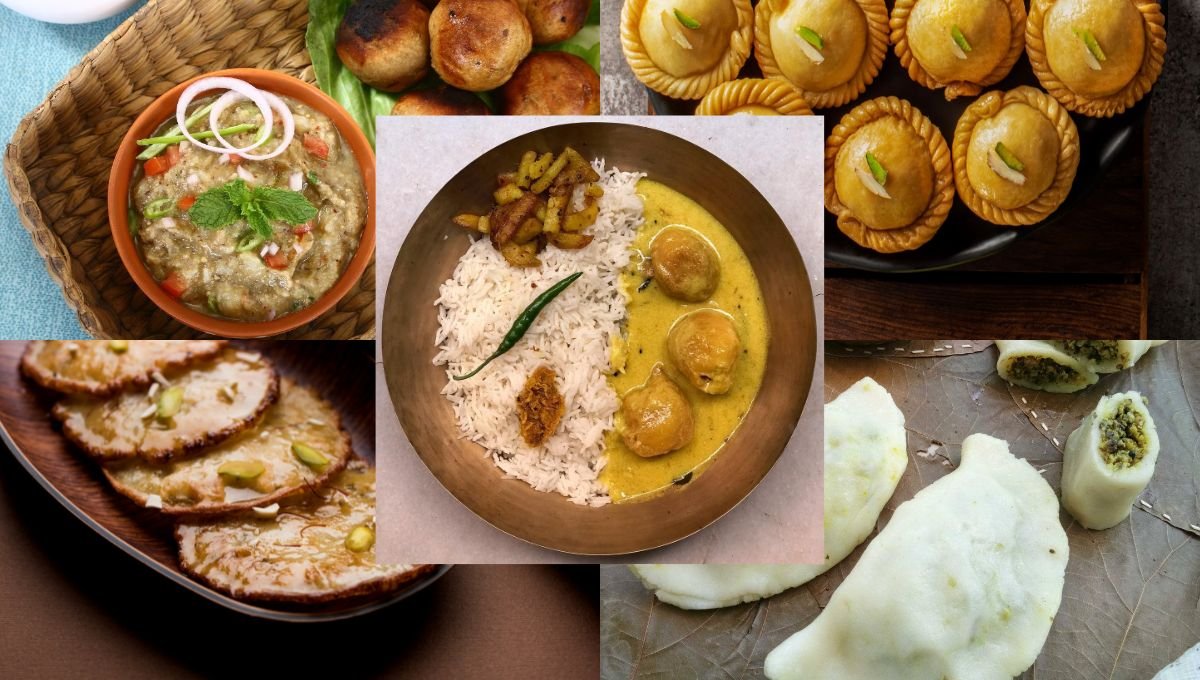 10 Delicious Bihari Dishes You Need to Try: The heartland of culinary delights – Bihar, a state in India known for its rich cultural tapestry and equally vibrant cuisine. Regarding food, Bihar takes you on a journey that combines flavors, history, and tradition into every mouthwatering bite. Get ready to tantalize your taste buds with an array of dishes that have been lovingly crafted in Bihari kitchens for generations. From the iconic litti chokha, where the spicy tang of chokha perfectly complements the smoky litti, to the soul-soothing Balushahi that fuels both body and spirit, our list of the 10 most delicious Bihari dishes is a celebration of local ingredients and time-honored cooking techniques. Delve into the gastronomic wonders that Bihar has to offer – each dish is a testament to the warmth and flavors that define Bihari culture.
10 Delicious Bihari Dishes You Need to Try
Litti Chokha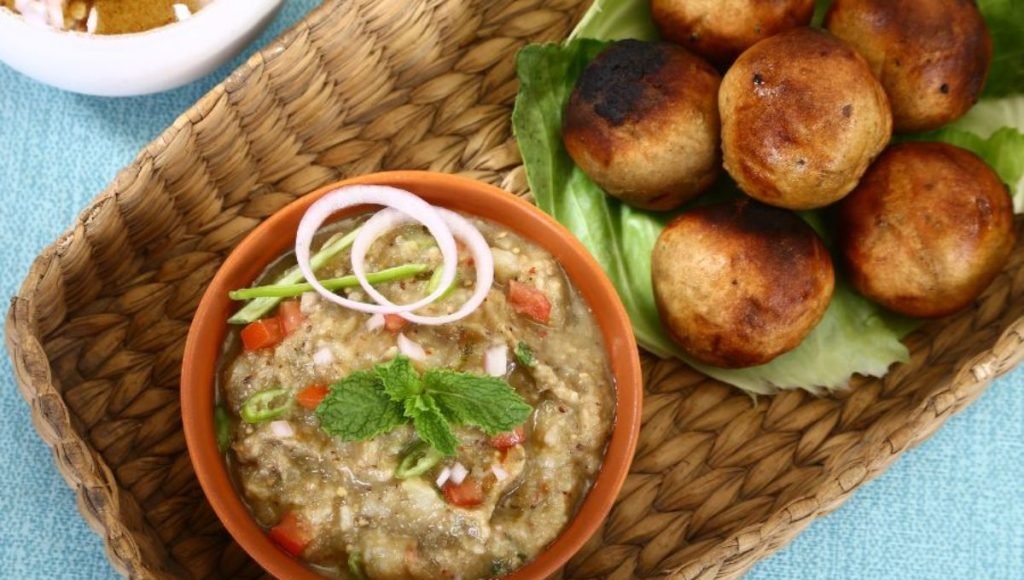 The heavenly flavors of Litti Chokha, are a cherished gem adored by every Bihari palate. As you take that first bite, you're welcomed into Bihar's food paradise, where tradition blends seamlessly with the rich essence of ghee. Crafted from wheat, sattu, and a blend of spices, these delectable, round-spiced balls are lovingly dipped in ghee. The luscious texture of Litti, coupled with its crispy crust, dances on your taste buds like a joyful melody. And what's Litti without its partner in flavor, Chokha? Boiled vegetables—potatoes, brinjal, tomatoes—are transformed into a medley of mouthwatering goodness with spices, onions, and garlic.
This dynamic duo is a match made in culinary heaven, inviting you to experience Bihar's food culture firsthand. But wait, there's more to savor—Sattu, the heart of Bihari cuisine. This fried gram flour creation takes center stage, mingling harmoniously with spices. It finds its way into wheat dough balls, rolled to perfection, and cooked on a hot plate, yielding the heavenly Sattu Paratha, affectionately known as makuni. Your taste journey through Bihar is simply incomplete without savoring these authentic delights.

Chana Ghugni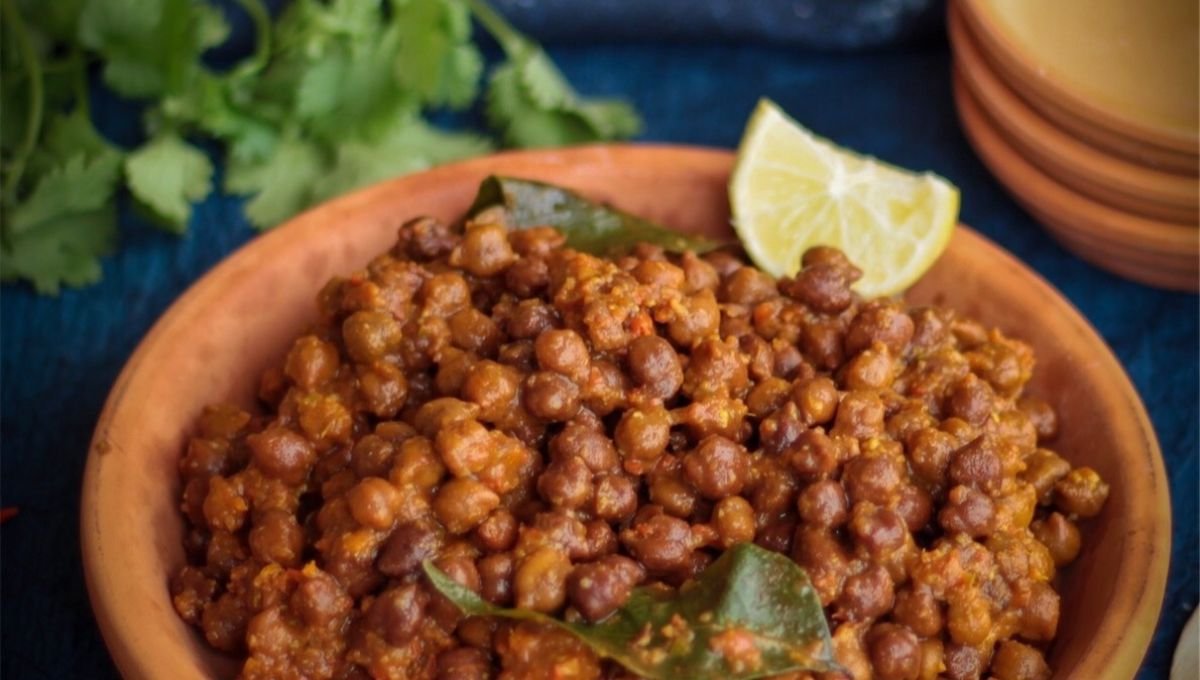 The vibrant flavors of Chana Ghughni, a zesty evening delight that's as common as it is irresistible in Bihar's culinary tapestry. This tantalizing snack, a household favorite, unites boiled chickpeas, sautéed onions, and a blend of spices. When mingled with "Chuda ka bhuja" or flattened rice, it becomes the ultimate answer to your hunger pangs. In every nook and cranny of Bihar, this savory gem graces tables, captivating taste buds with its unique spicy-tangy profile. Not just content with one masterpiece, dried gram is also transformed into an array of salty companions that perfectly complement your tea time. Experience the true essence of Bihar's snacking culture through Chana Ghughni, a flavor-packed invitation you won't be able to resist.
Dal Peetha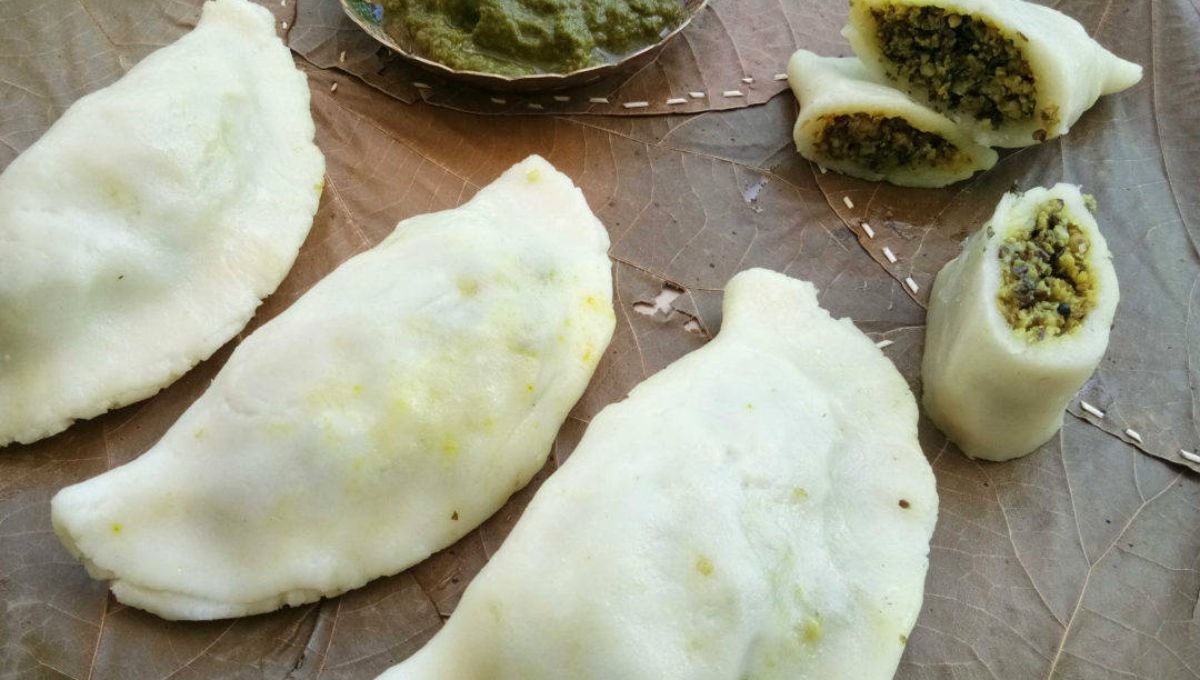 Picture this: Dal Peetha, Bihar's delightful take on dumplings, capturing the essence of our culinary heritage. Imagine tender rice flour wraps cradling a flavorful blend of lentil paste, spices, and a hint of pickle. These savory parcels are then lovingly steamed or fried, resulting in a breakfast that's both wholesome and lip-smackingly delicious. And that's not all – we have Dal-Puri, a close cousin, where the aromatic lentil paste mingles with spices, finding its place within the folds of freshly rolled chapatis. It's a symphony of taste and tradition that beckons you to experience Bihar's rich flavors firsthand.
Kadhi Badi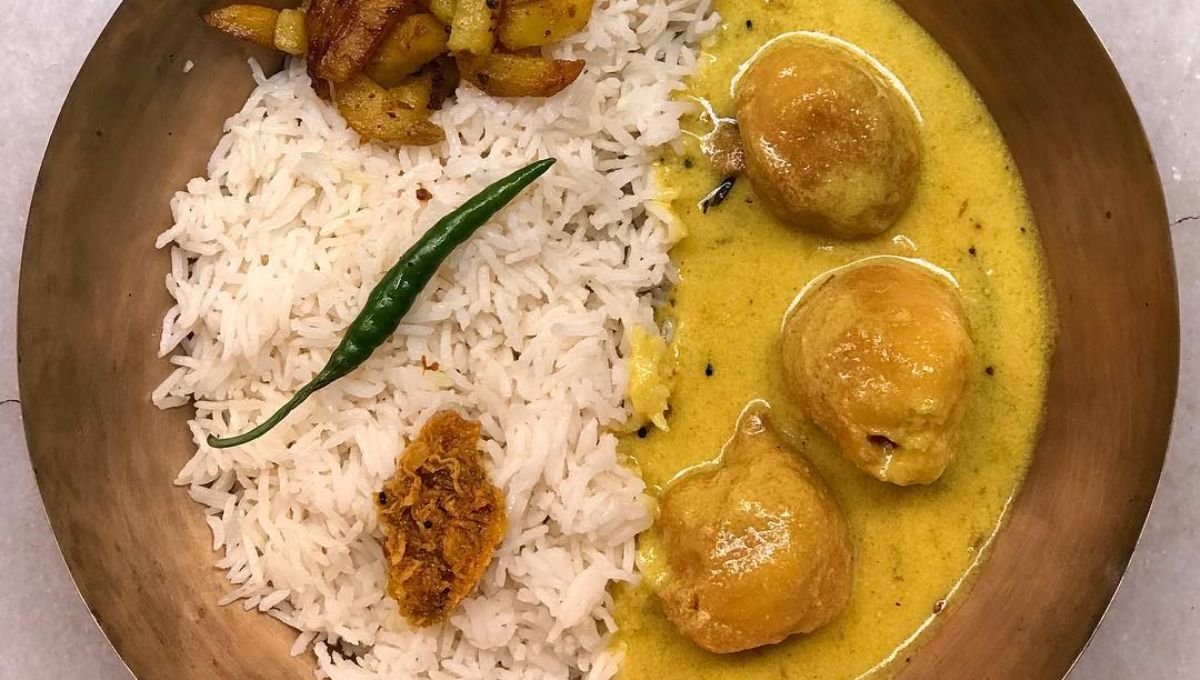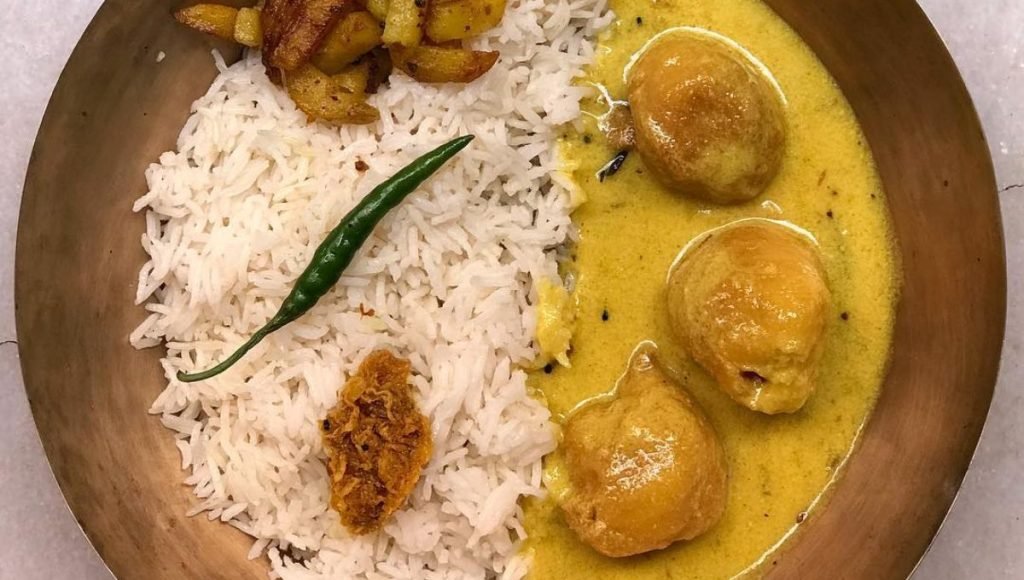 In a timeless and utterly delightful Bihari treasure – a dish that's both heartwarming and scrumptiously satisfying. The star of the show is the richly flavored gravy, lovingly crafted from besan (gram flour) and enriched with the creamy goodness of yogurt. This culinary masterpiece finds its perfect partner in Badi, another creation from the humble besan. Together, they create a symphony of flavors that dance on your palate. As tradition dictates, this savory delight is often accompanied by a serving of aromatic rice or puris, completing a culinary experience that's as authentic as it is irresistible.
Mutton Kebabs and Reshmi Kebabs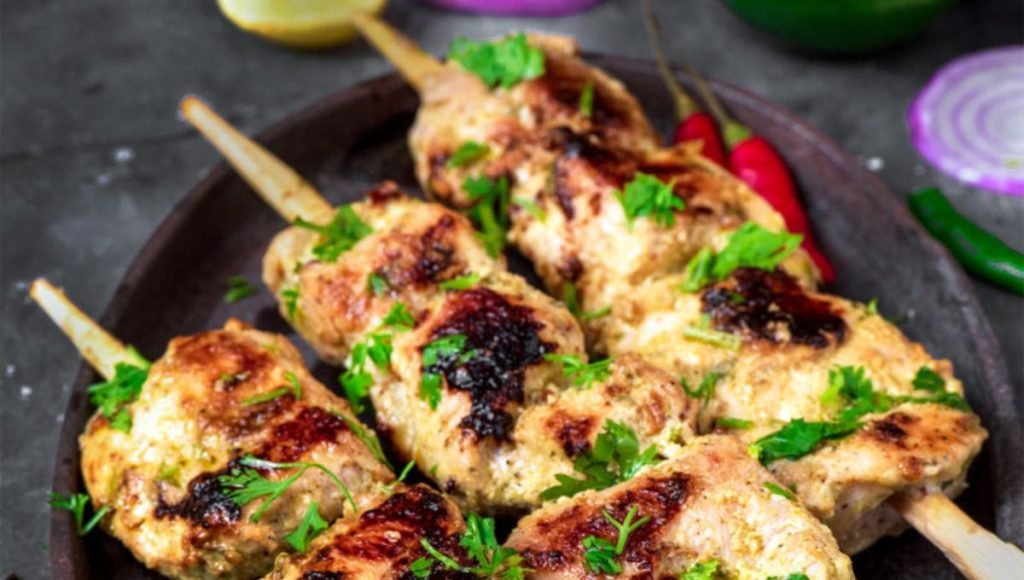 Amidst Bihar's culinary glory, the realm of non-vegetarian delights shines just as brightly. Patna's renowned Mutton Kebabs, steeped in history, beckon with their tantalizing allure. The aromatic embrace of Kadamkua's humble shop leads you to Mahgu, a custodian of culinary heritage tracing back to his Great Grandfather, a chef in the British court. Mahgu's Mutton Kebabs emerge as a symphony of flavors, a true marvel for your taste buds. As you journey to Patna's Rajendra Nagar, you encounter Richie Rich's Reshmi Kebabs, a formidable rival to Lucknow's Galauti Kebabs.
Laai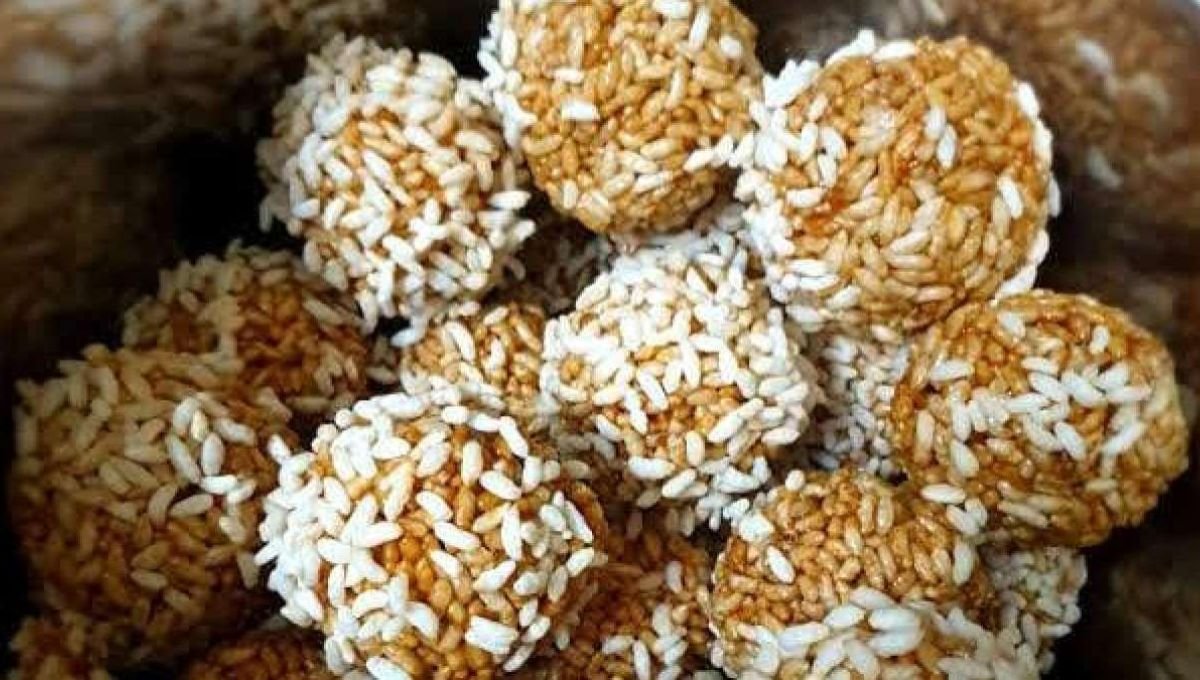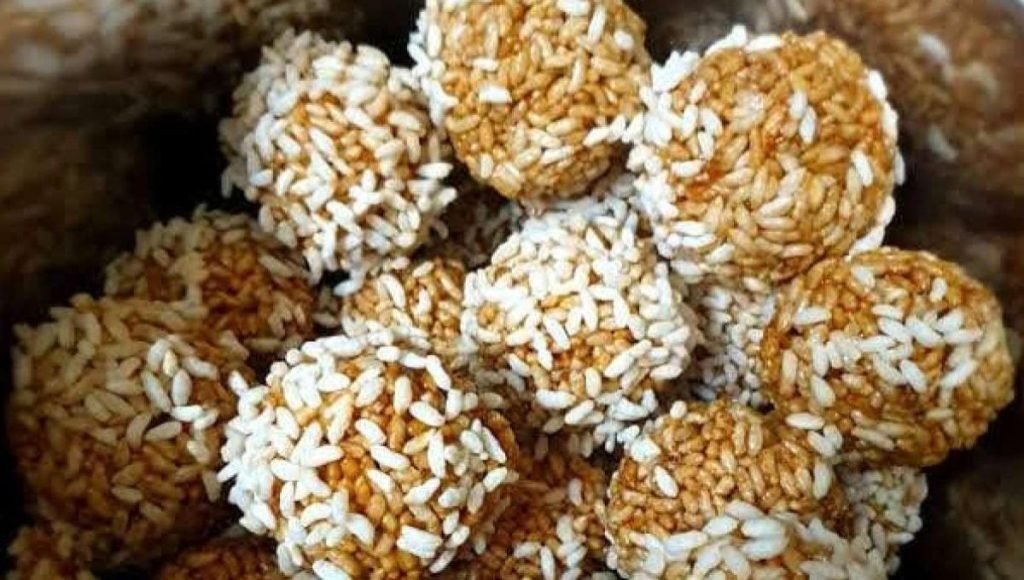 Imagine the warmth of home – jaggery syrup cascading over crisply fried cereal, lovingly shaped into generous orbs by the adept hands of mothers and grandmothers. It's the very definition of comfort, a nostalgic embrace of flavors. The choice of cereal varies – be it the delightful crunch of puffed rice (muri), the tender allure of beaten rice (choora), or the unique texture of Ram dana. This creation, known as "laai," encapsulates the essence of Bihari homes. One bite, and you'll understand why it's destined to become your cherished Saturday evening indulgence.
Chandrakala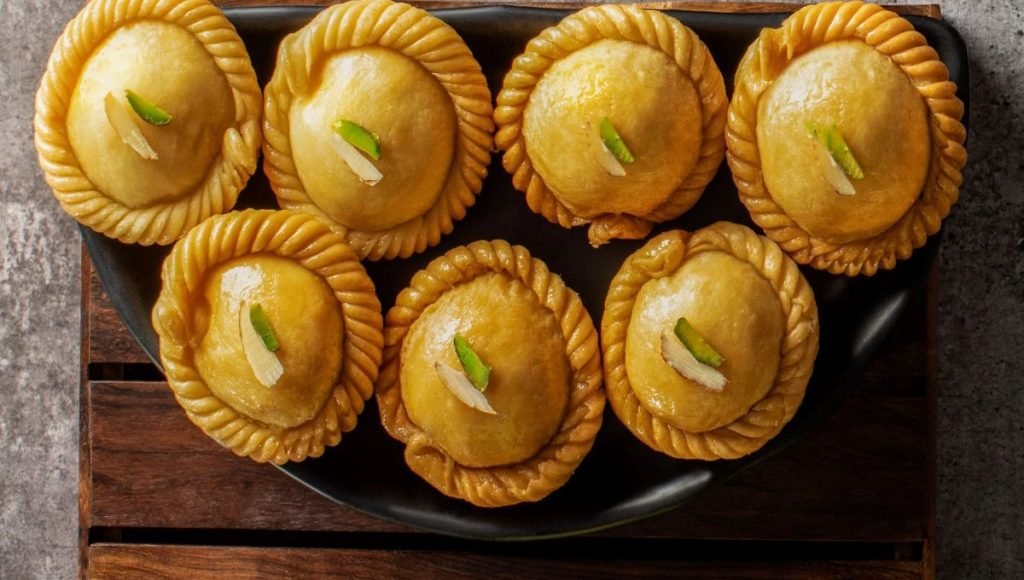 Your sweet cravings with Chandrakala, a dessert that rivals Gujia in its heavenly appeal. Crafted for those who treasure sweetness, this delight boasts a crispy exterior embracing a sumptuous filling of sweetened khoya, coconut, cardamom powder, and a medley of dried fruits. As it takes a blissful dip in sugar syrup, Chandrakala emerges as a true gem from Bihar's culinary heritage. With each bite, you're transported to a realm of flavors that resonate with tradition and warmth. This creation is more than a dessert; it's an experience that elevates your senses.
Khaja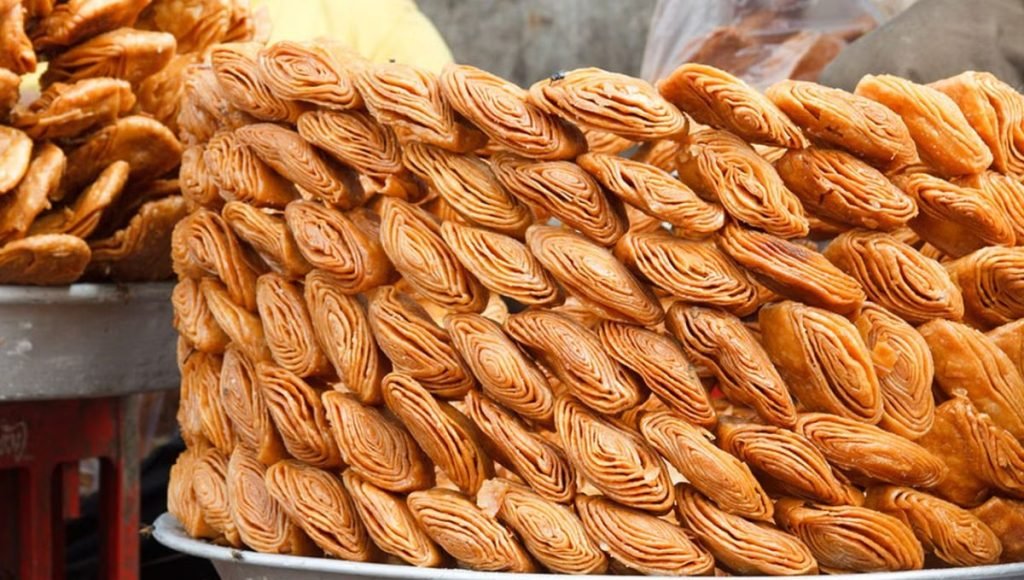 The timeless delight of Khaja, a delectable snack that echoes with a 2000-year-old legacy. Hailing from Bihar, this treat bears a resemblance to the Baklava of the Ottoman Empire. A crisp symphony of wheat flour, sugar, and mawa dances in hot oil, resulting in a dessert that's tantalizingly crunchy yet blissfully melt-in-the-mouth. But that's not all – enter Belgrami, a close kin made from milk solids, sugar, and ghee. This variation, less sweet and utterly enticing, hails from Udwantnagar, nestled between Arrah and Buxar. Both Khaja and Belgrami are not just sweets; they're stories that whisk you away to a realm where flavors weave tales of tradition.
Malpua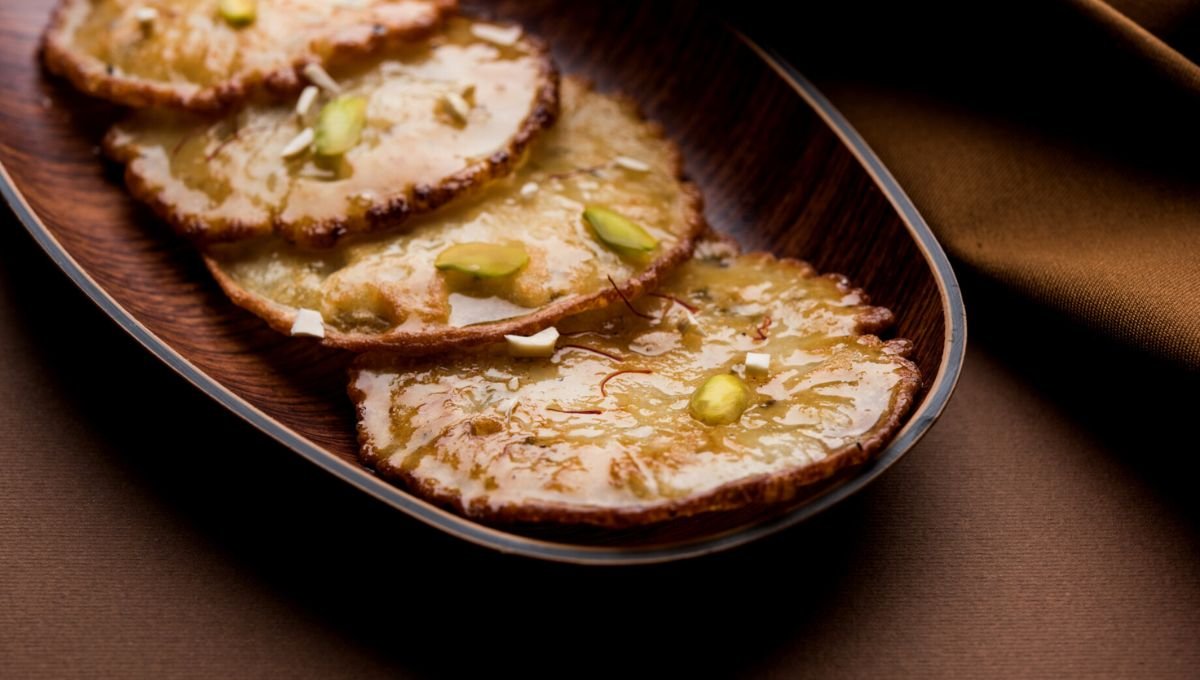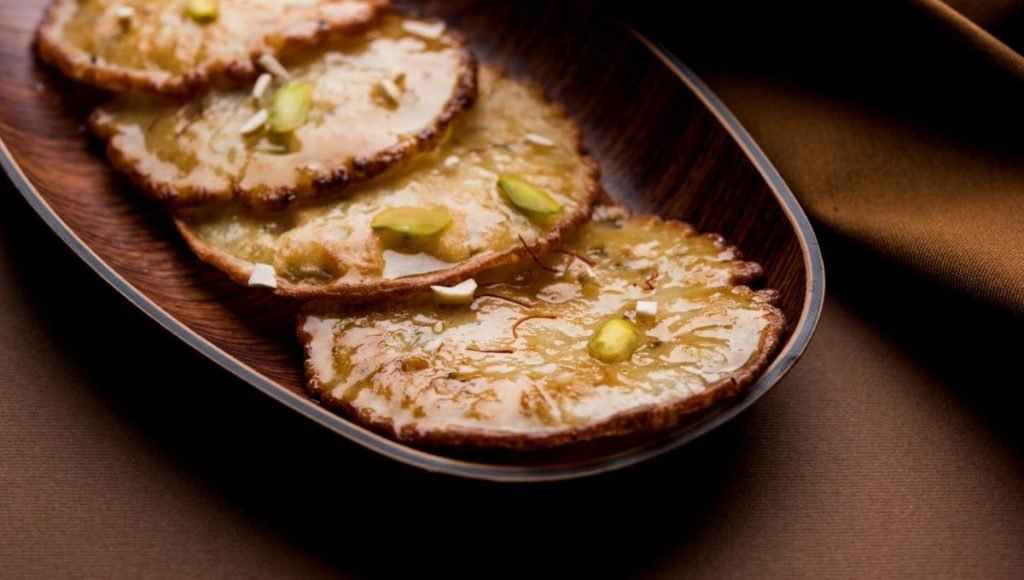 The beloved Malpua is a Bihari culinary gem that demands no formal introduction. The very batter – a harmonious blend of flour, milk, ripe bananas, and sugar – transforms into delectable rounds, lovingly fried in ghee till golden and immersed in a sugary embrace. A crisp exterior yields a tender core, a sensation that simply dissolves on your tongue. This all-time favorite from Bihar's culinary treasury is more than a dessert – it's an emotion. And what's a Malpua without its perfect partner? Thick Rabdi, a velvety concoction, joins the affair, elevating the experience to a realm of divine flavors.
Balushahi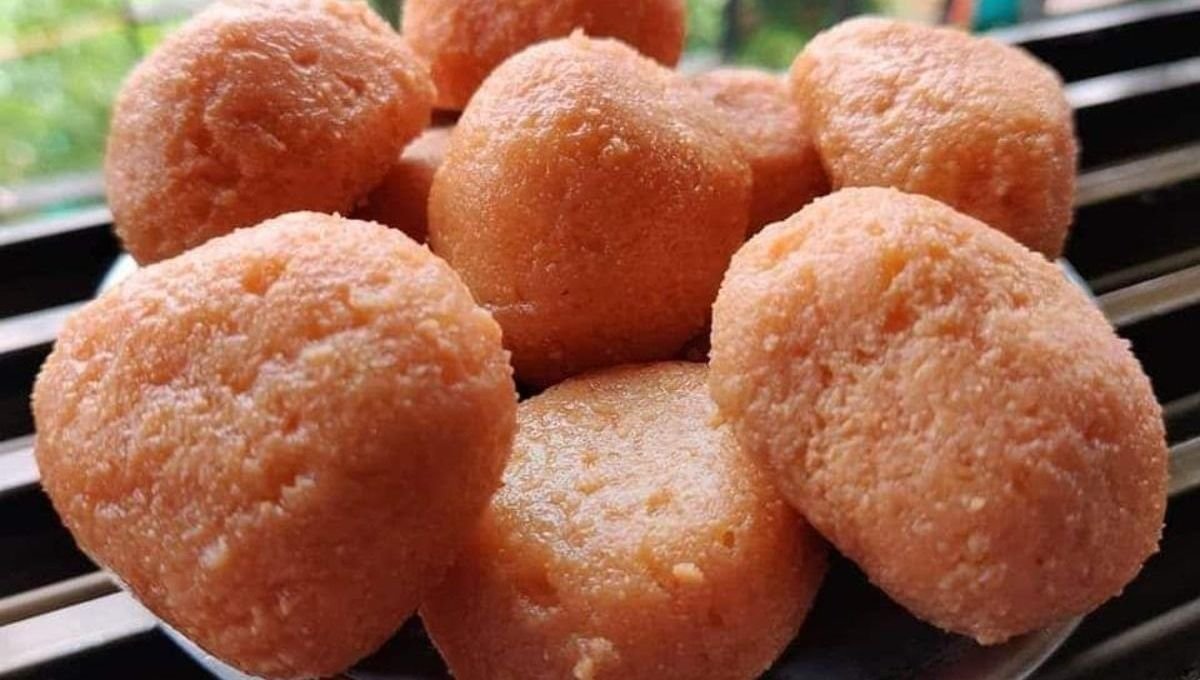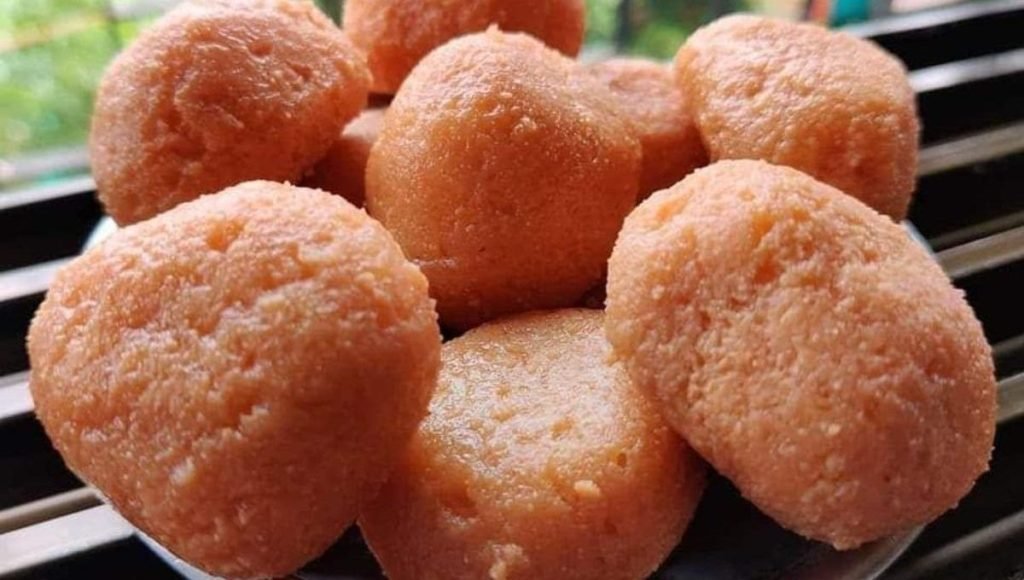 The essence of Bihar's culinary artistry is through Balushahi – a sweet, porous flour cup that cradles a symphony of flavors within its Khoya heart. Each bite isn't just a taste; it's a journey into the loving embrace of Bihari cuisine. The khoya, a treasure trove of delicate sweetness, embraces hints of cardamom, cinnamon, and even the opulence of saffron, enriching every morsel with taste and fragrance. This flour vessel is then carefully sealed and fried to golden perfection. When you savor Balushahi, you're not just enjoying a treat; you're immersing yourself in the culinary heritage of Bihar, where every bite resonates with love and tradition.
Also Read: