200 runs in One Day Internationals By Indian Player: There was a time in International cricket when the 194* scored by Saeed Anwar against India in Chennai, on 21 May, 1997 was the record that pundits and viewers swore that would never be broken. For the longest time the prediction of these pundits and viewers stood the test of time, as many went close but only faltered at the deep end. The record rightfully stood intact for the next 13 years with the closest to it being Charles Coventry, who matched the record after 12 years against Bangladesh on 16 August 2009, although failing to break it.
With the turn of the decade and the dissemination of swashbuckling T20 format of cricket, it was a matter of time the record set by Saeed Anwar would break and so would the monstrous record of hitting twin centuries in a single inning. But no one had envisioned how that would come about in reality.
On February 24, 2010, Sachin Tendulkar made one-day international cricket history by becoming the first male batsman to record a double century at the Roop Singh Stadium in Gwalior. And with it, came a barrage of twin tons with nearly one double century coming up every year since then.
Out of the 10 double tons scored by batsmen in One Day International cricket, Indians have their names beside 7 of them. Interestingly, Rohit Sharma, the current Indian captain, has scored 3 out of those twin tons. Rohit Sharma or 'Hitman', as he is fondly called by his fans also has the record of scoring the most runs in a single ODI at 264 vs Sri Lanka at Eden Gardens on 13 November 2014.
200 runs in ODI Cricket made by Indian Player
Here is a list of the Indian batsmen who scored a double century in One Day Internationals in chronological order:-
1.  Sachin Tendulkar 200(147)
Opposition- South Africa in Gwalior, 2010
Balls faced to reach 200- 147 balls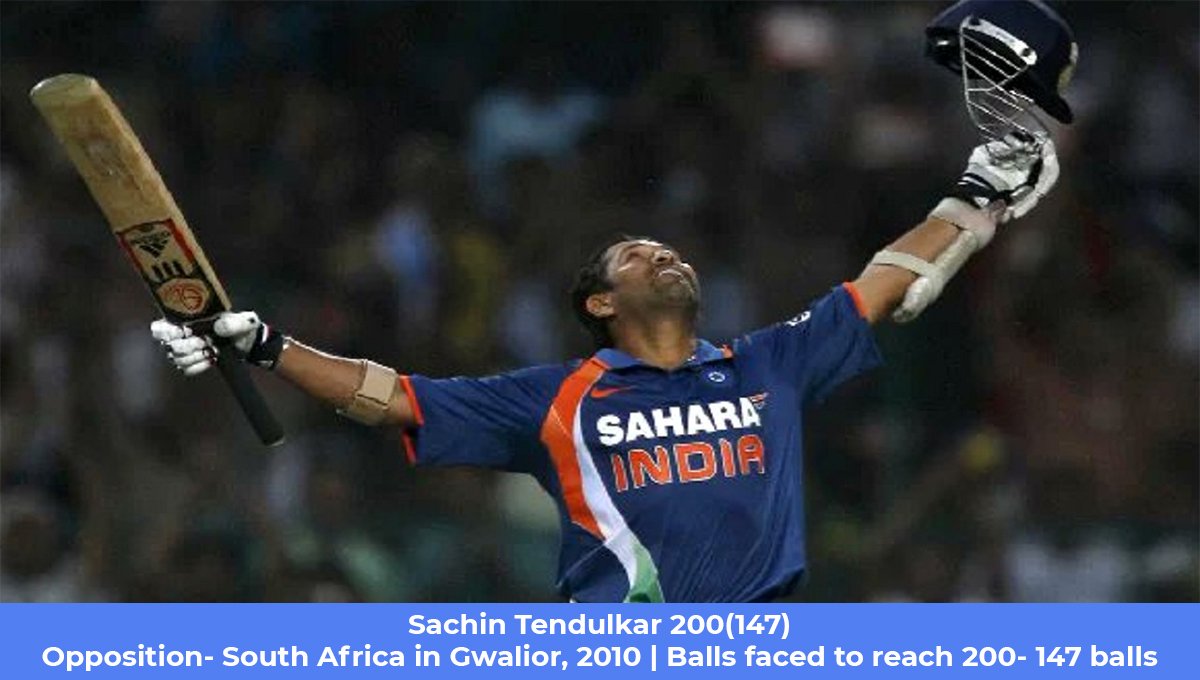 Sachin Tendulkar is widely considered as the finest player to ever hold the bat in any form of cricket and he has the record to show for it. Sachin has scored 100+ centuries in International cricket as a whole. Rightfully, the 'Little Master' was the first player to score a double century in ODI cricket and turn the page for a whole generation. Sachin decimated the South African bowling attack as he got to the then unbelievable landmark in Gwalior on 24 February 2010. Although those years were the latter part of his spectacular career, he graciously bowed down while uncovering one of the great milestones for the generation to follow.
2. Virender Sehwag 219(149)
Opposition- West Indies in Indore, 2011
Balls faced to reach 200- 140 balls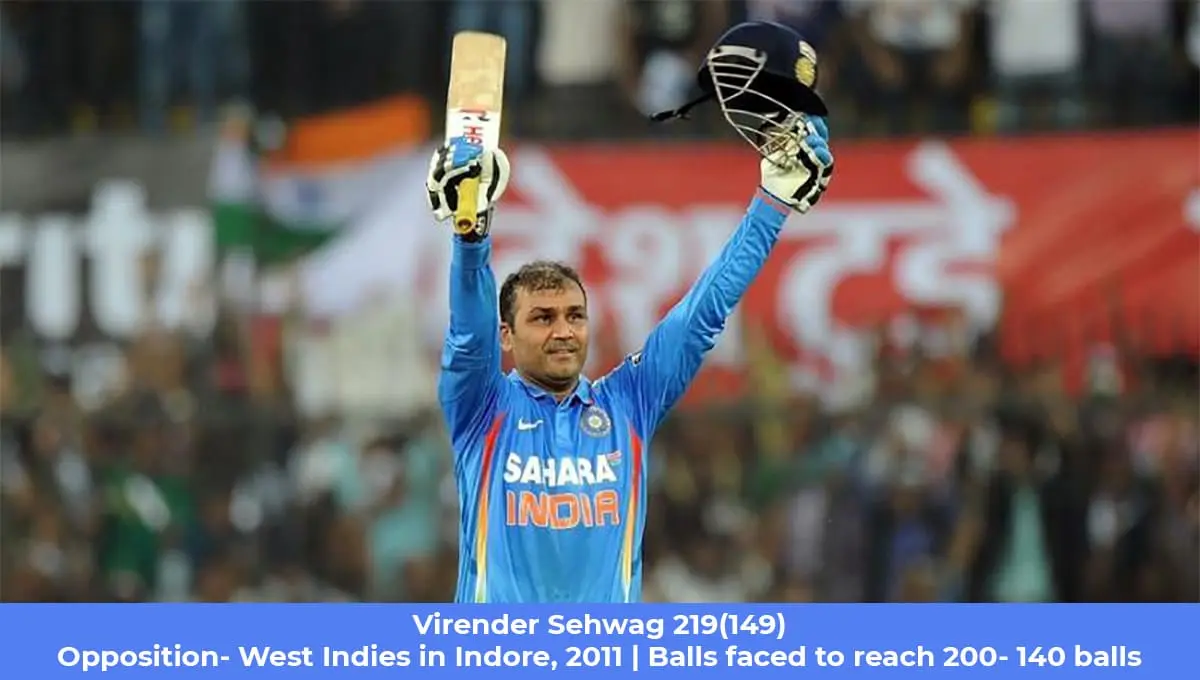 Following in the 'Little Master's footsteps is his biggest admirer and opening partner, the 'Nawab of Najafgarh', Virender Sehwag. Sehwag was one of the most destructive batsmen to ever grace the cricket pitch. He has 2 triple hundreds in Tests with an unbelievable strike rate, so if there ever was a list of all who could have scored a double hundred, Sehwag would certainly be on that. Sehwag destroyed the West Indies attack in Indore on 8 December 2011 to shreds. Whilst this inning, Sehwag went on to shatter numerous records and was the fastest to 200 at that time until Rohit Sharma got the taste of it.
3. Rohit Sharma 209(158)
Opposition- Australia in Bengaluru, 2013
Balls faced to reach 200- 156 balls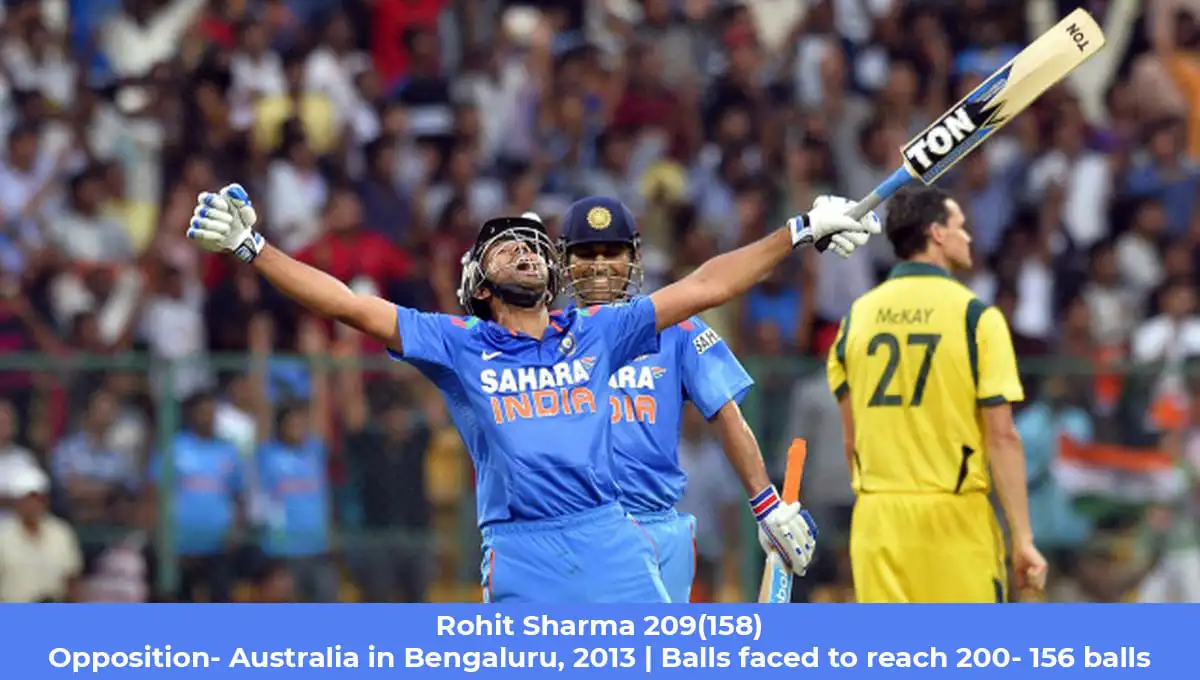 At Bengaluru's M.A. Chidambaram Stadium on 2 November 2013, India's current skipper earned his nation's first 200 runs against Australia. Rohit Sharma became just the third batsman(at the time) to reach the 200-run milestone when he did so in 156 balls. Rohit went on to get two more twin tons to date and has been a huge proponent of the Indian batting order since then.
4. Rohit Sharma 264(173)
Opposition- Sri Lanka in Eden Garden, 2014
Balls faced to reach 200- 151 balls
The score is nowhere near as astonishing to look at as this inning was to watch. This inning is one of the finest paced innings of the modern game as Rohit only got to his century by the 30th over and then went on a rampage against the bowling attack of Sri Lanka at the Eden Gardens on 13 November 2014. The score is still the highest individual score in One Day cricket and the author considers that this record will stand the test of time and will not change hands for a few decades to come.
5. Rohit Sharma 208*(153)
Opposition- Sri Lanka in Mohali, 2017
Balls faced to reach 200- 151 balls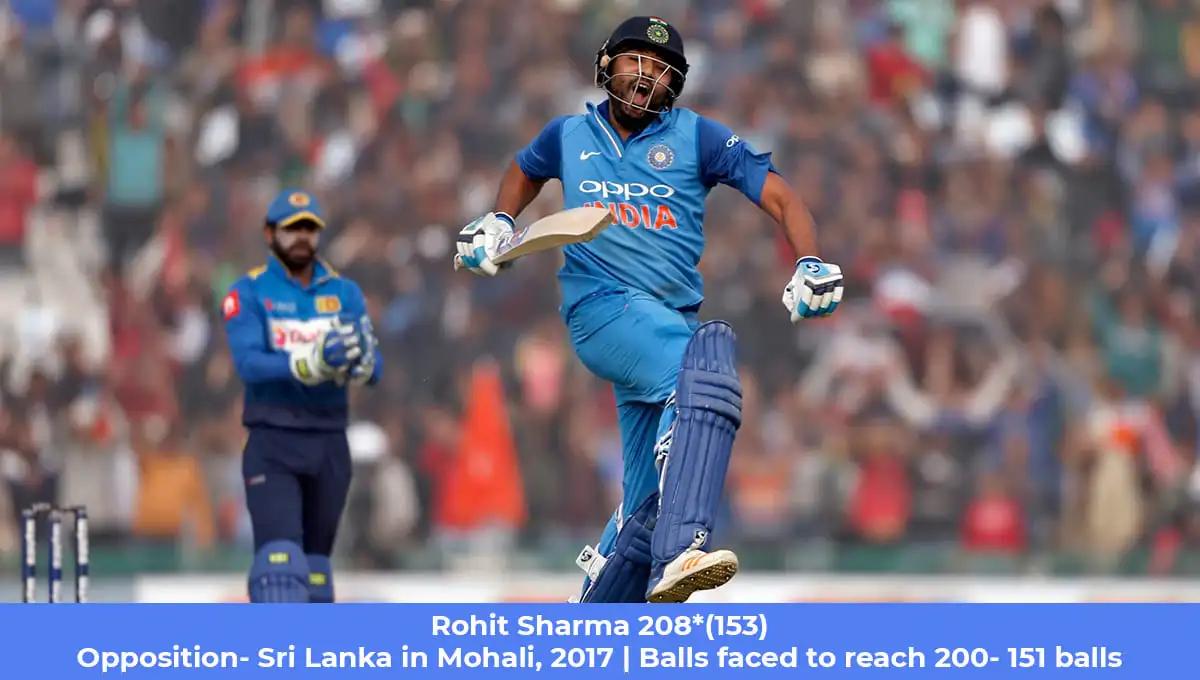 Yet again, it is the 'Hitman' who scores a double ton and yet again it's the Sri Lankan bowlers who have to face the wrath of his bat. This was Rohit Sharma's third double century in ODI cricket, a record the young generation can only dream of. This inning cemented Rohit's place among the best of limited overs cricket, if it wasn't there already. This inning happened in Mohali on 13 December 2017 against Sri Lanka.
6. Ishan Kishan 210(131)
Opposition- Bangladesh in Chattogram, 2022
Balls faced to reach 200- 126 balls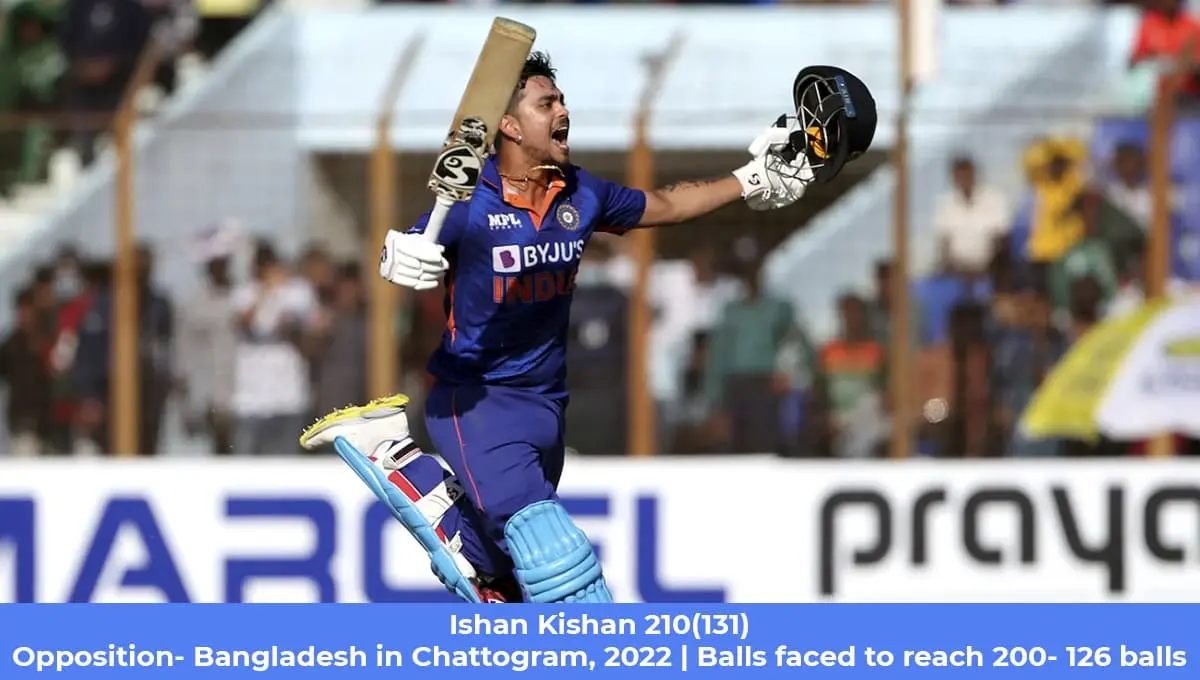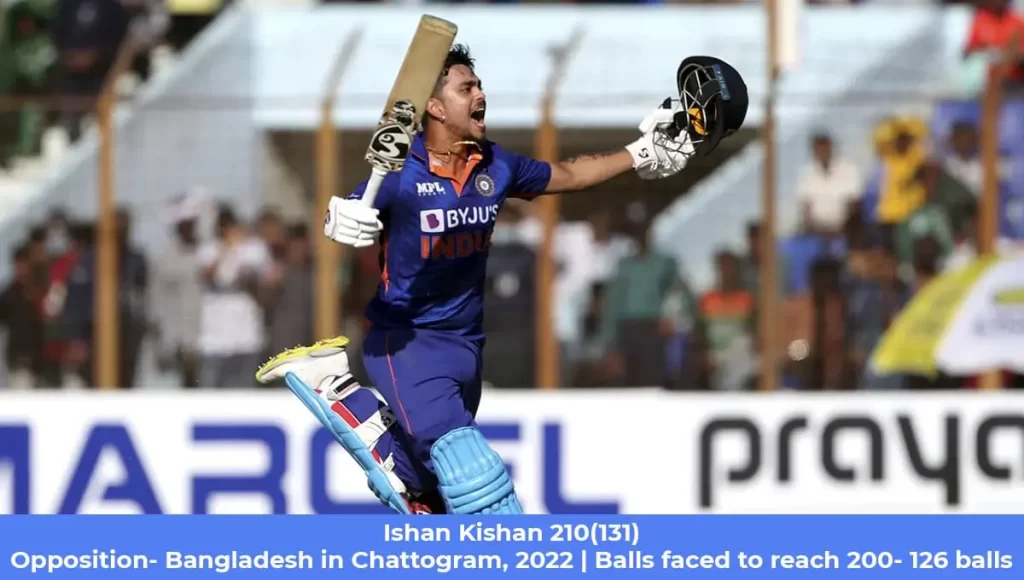 Ishan Kishan, who hails from Patna, Bihar, wasn't a regular part of the Indian squad when he went through with this swashbuckling inning but put his name in serious contention after it. What's even more impressive about his inning was that he had no international centuries in his kitty before this inning. The record of the fastest double century is with this inning of Ishan as he reached the milestone in 126 deliveries against Bangladesh in Chattogram on 10 December 2022. Notably, this is the only double ton by an Indian batsman on foreign soil.
7. Shubman Gill 208(149)
Opposition- New Zealand in Hyderabad,2023
Balls faced to reach 200- 145 balls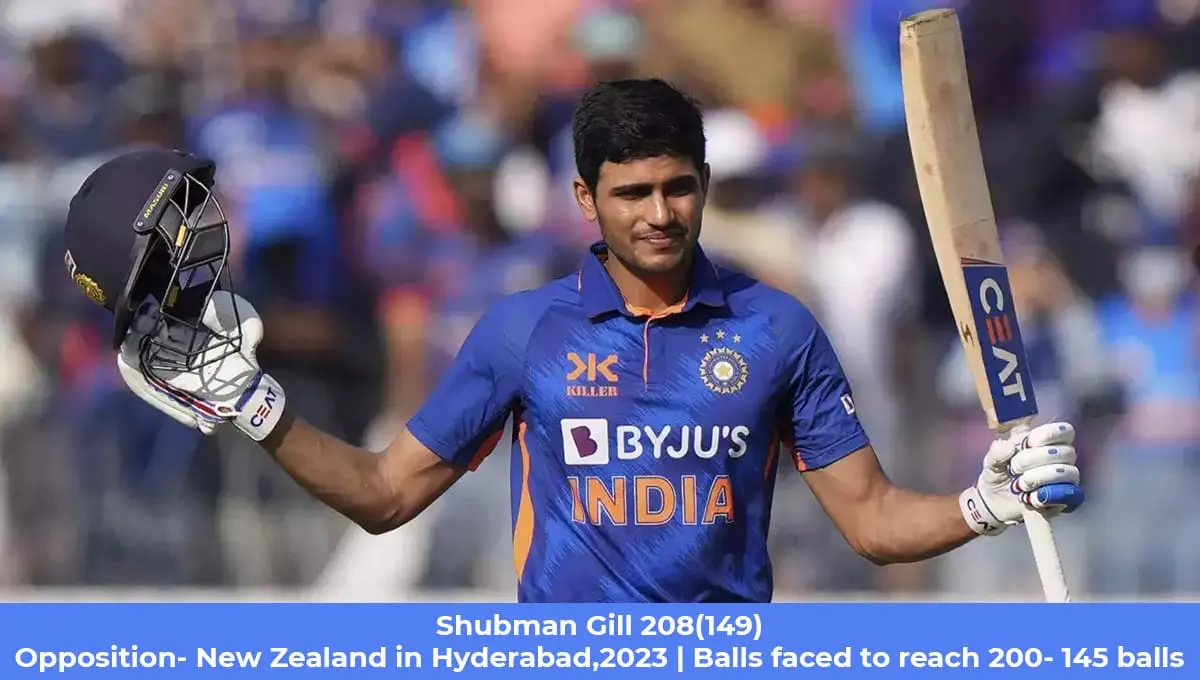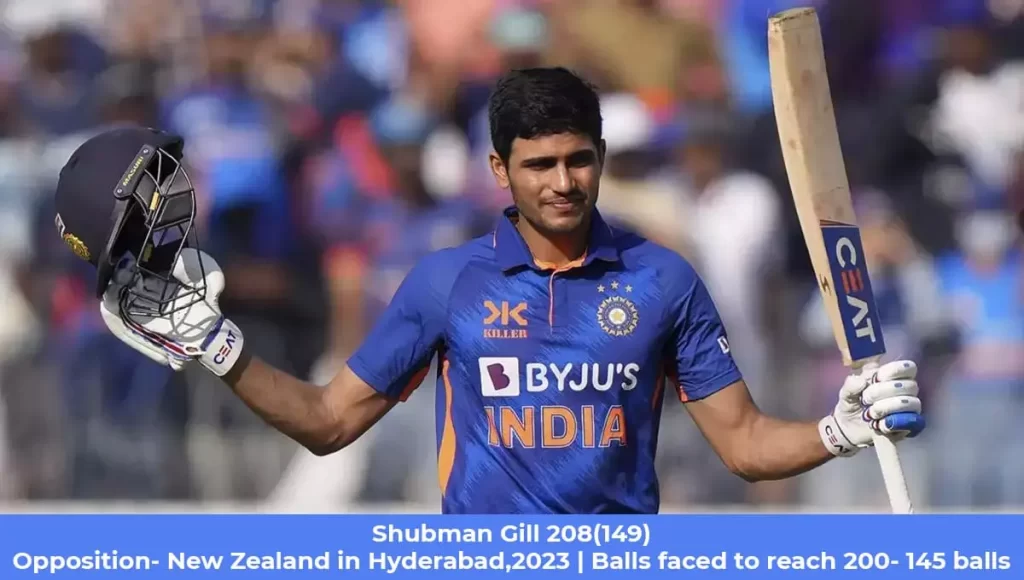 Another one from the new generation to cross the milestone, Shubman Gill interestingly was given the spot of Ishan Kishan after his own exploits. There were many retractors against his selection but Shubman put a slap on their faces in the form of this inning. Shubman brought on his double century in style, sending Lockie Ferguson beyond the ropes on three consecutive deliveries. Shubman's exploits were against New Zealand in Hyderabad on 18 January 2023.
Notable Mentions:
Foreign Players who have scored double centuries:
Chris Gayle 215(147) West Indies vs Zimbabwe,  Canberra, 2015
Martin Guptill 237*(163) New Zealand vs West Indies, Wellington, 2015
Fakhar Zaman 210*(156) Pakistan vs Zimbabwe, Bulawayo, 2018
Women Cricketers to have scored double centuries:
Melinda Clark 229* Australia vs Denmark Mumbai,1997
Amelia Kerr 232* New Zealand vs Ireland Dublin,2018
Fun Facts:
The first batter in men's and women's cricket to score a double century in ODI cricket was Belinda Clark of Australia against Denmark in 1997. However, the first male batter to score a double century was Sachin Tendulkar.
All players to have scored a double century have done so while opening the inning for their teams.
Rohit Sharma is the highest individual run scorer (264 runs) in the ODIs.
The record of the fastest double century in ODI is held by Ishan Kishan.  Earlier, this record was held by Chris Gayle, but Ishan recently shattered the record by hitting the fastest century ever in the history of ODI. in the final and third ODI match of the series opposite Bangladesh at the Zahur Ahmed Chowdhury Stadium in Chittogram, the man notched up a fantastic double century off just 126 balls.
Saeed Anwar (Pakistan) was the first player who entered into the 190 plus score in ODI. Anwar's record of 194 runs against India on 21 May 1997 remained intact till December 1997. This record was broken by the Australian woman cricketer Belinda Clark. She cracked the 200 plus mark and scored an unbeaten 229 runs against a hapless Denmark at the MIG Club Ground, Mumbai.
7 out of 10 200+ scores have been scored by Indian batsmen.
Chris Gayle and Martin Guptill scored their respective double tons in the ICC Men's World Cup 2015 jointly hosted by Australia and New Zealand. These were the only instances of 200+ scores in the ODI World Cup.
Ishan Kishan is the only Indian batsman to score a double century on foreign soil in Chattogram in December 2022.
Disclaimer
This list was compiled as of 30 January 2023. All contents furnished here are only updated up until the mentioned date. Any discrepencies in rankings, data etc. thereafter, will only be updated upto the above mentioned date.
ALSO READ: