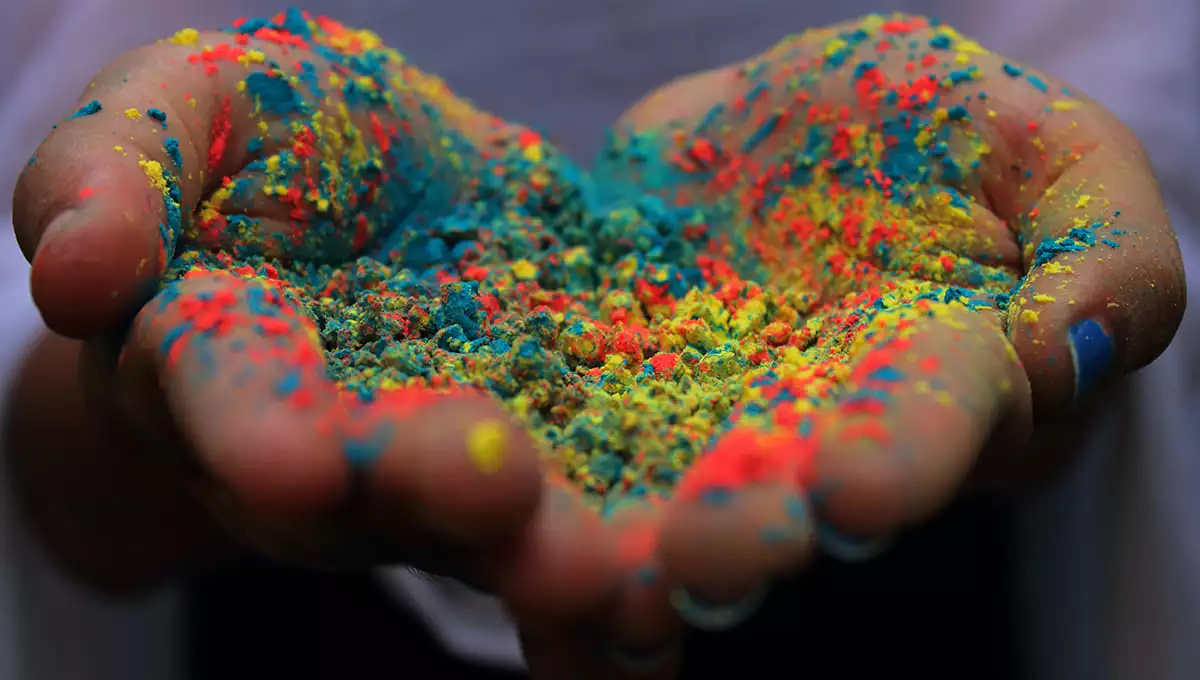 Festivals
Holi 2023: A Joyous Celebration of Color and Unity
Holi 2023, A Joyful Celebration of Color and Unity: Holi is the Festival of love and Colors, celebrated in India. It is one of the 'Ancient' Festivals of India. It is celebrated by the Hindu religion of the Country. It is celebrated from the evening of the Full Moon Day of the Month of Phalgun to the first day of the month of Chaitra according to the Hindu Calender, which lies in the month of March according to the Gregorian calendar. It basically marks the end of Winters and the start of long days .
Holi is not just a festival but it's an emotion of Hindus, as on this auspicious day people even let go of their enemies and celebrate with immense pleasure and joy irrespective of caste, discrimination etc.. Indians celebrate each of their festivals with immense pleasure and joy. Holi is a festival which gives us moral and spiritual values. It teaches us the triumph of good over evil by the Spiritual Story of Lord Narasimha and Hiranyakashipu. It teaches us eternal love of Radha Rani and Krishna Ji.
In India Holi is the only festival which is celebrated in the same way across the whole nation, except for in 'Barsana, Mathura and Vrindavan'. This city has a very spiritual connection with the Hindu Deity Krishna and Radha Rani. So usually Holi is a two day festival. The first evening is called 'Holika Dahan' or 'Ageeja'. On this day in the evening people gather outside their houses and perform religious rituals around a bonfire. It is said that the bonfire contains all the unwanted or broken things which are of no use to anyone, this also symbolizes that everyone should push out all the negative energies from their houses and bring in positive energies for a peaceful living.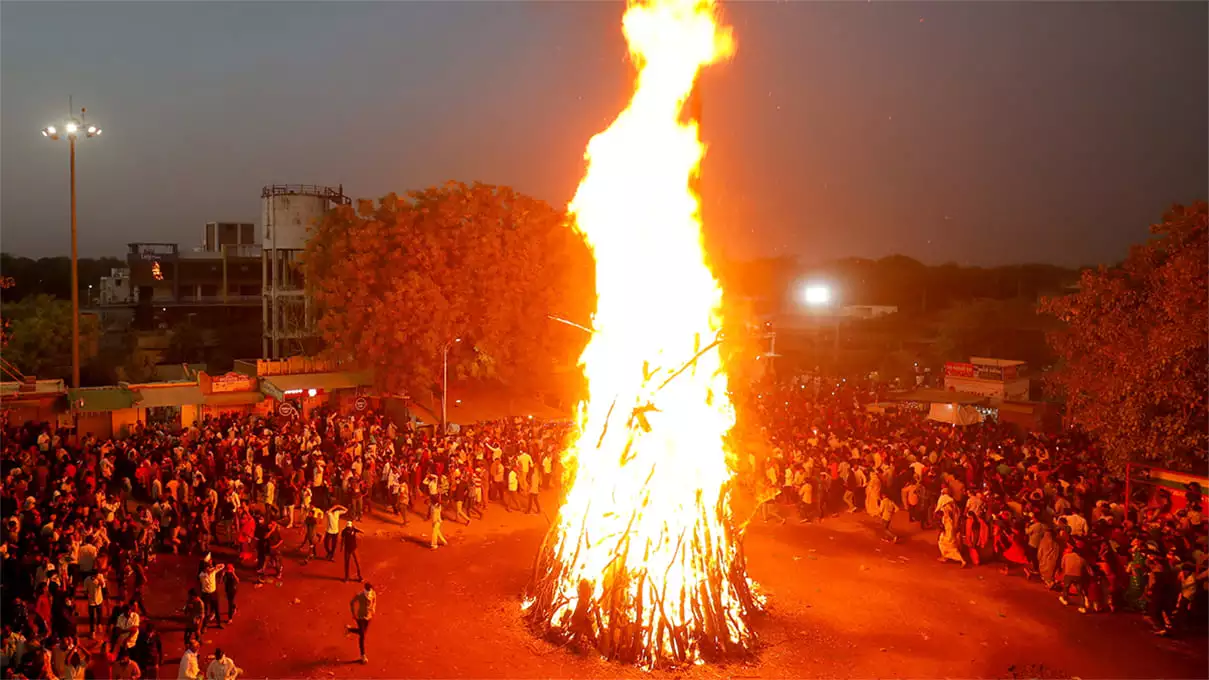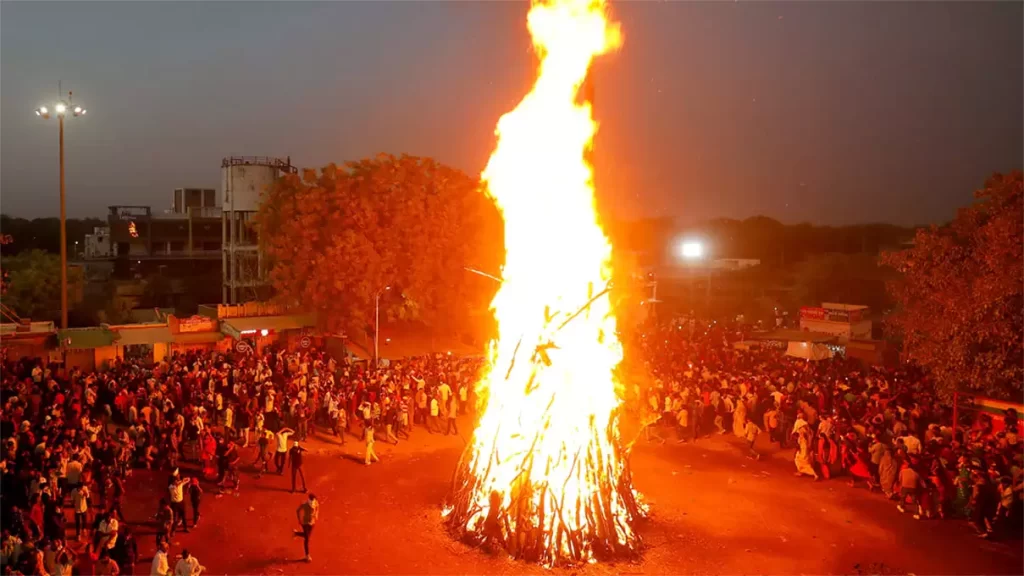 Holi also has spiritual connection in the Hindu Mythology, it is said that The Demon King Hiranakashipu invited her sister named 'Holika' (who had a boon that she could not burn in fire) to his palace for Killing his own son Prahalad. Since Prahald was a 'Hari Baghat', the king disliked his son and asked his sister to take him and sit in the fire. To everyone's amazement, the Holy fire didn't even touch Prahald and burnt 'Holika' to death. Since then this day is marked for the celebration of 'Holika Dahan' and people believe that every year they burn all their negative energies in the Holy Fire of Holika.
The next day is celebrated as 'Holi' or "Rangotsav' across India. On this day people cover and soak each other with color. Everyone plays with color dyes and 'Abir'. Anyone and anywhere is considered fair game while using water cannons and water-filled balloons to play and paint each other. Delicious food and desserts are made in each and every house. This is the favorite day of all the children.
This day is just way more than imagination for everyone. The main focus is 'Thandai'and 'Gujiyas'. At Least every house has them. Drums and other instruments are frequently carried by groups while they move about singing and dancing. Many events are organized for playing Holi. In the evening people visit their relatives, while friends and adversaries gather together to speak, eat food and drink, and engage in Holi delights.
Now let's take a look at the Holi celebrated in Barsana, Mathura and Vrindavan . It's just the same if Heaven comes on Earth. There Holi is celebrated for 10 days. It is a complete pleasure to enjoy it there. Everyone across the world at least wants to experience this Heavenly Delight once in their lifetime. It is said that Barsana is a Heaven on Earth, Lord Krishna and Radha Rani were there in the Dwapar Yug. Barsana, the Birth Place of Radha Rani which is almost 42 Kms away from Mathura, the birth Place of Lord Krishna.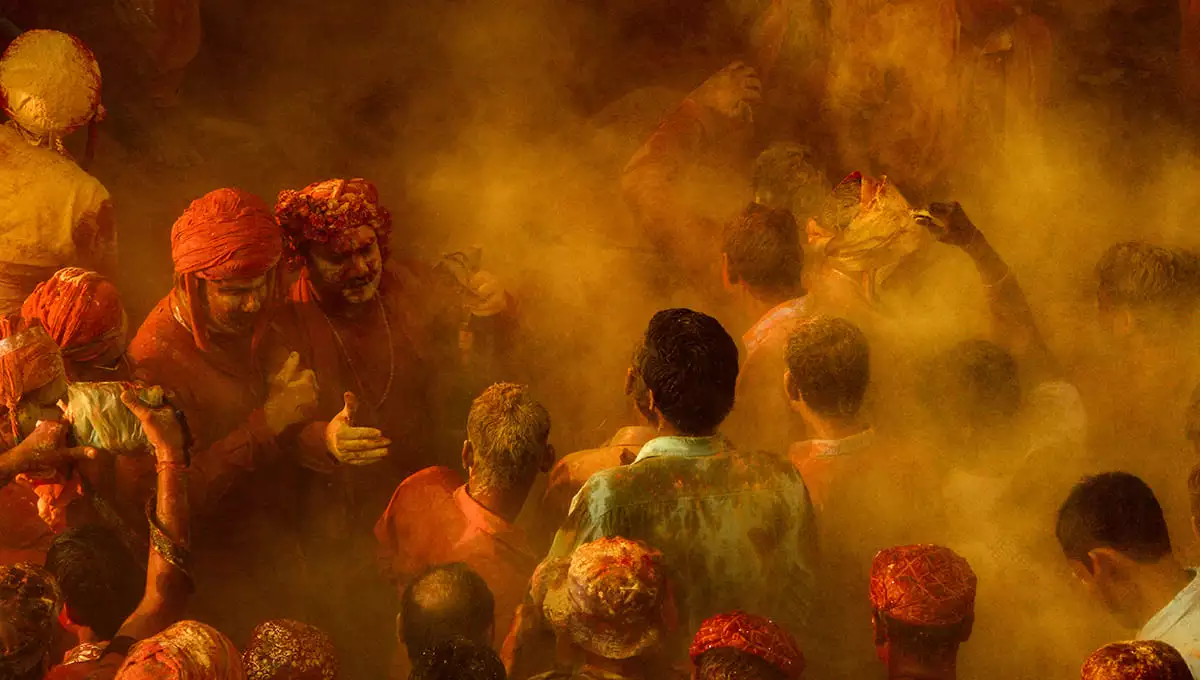 Holi 2023: The 10 Days are:
1. Holika Dahan – On this first day, often referred to as the Holika Dahan, people burn various items including wheat hair, dal, and gur. People act differently depending on where they are and what their views are, in each case. The fire that has been set up in several locations represents the triumph of good over evil.
2. Dhulandi Holi – The Holi festival is grandly celebrated in Mathura and Vrindavan for at least a week. One of the most well-known methods to celebrate the occasion is with Dhulandi Holi. This manner of celebration has also been adopted by people from many cultures. Around ten vehicles are adorned for Holi in Dhulandi with vibrant flowers, and then there are processions. Some children are forced to stand or sit on these vehicles while wearing Krishna and Radha costumes. People kowtow in front of these children because they resemble Radha Rani and Lord Krishna.
3. Lathmar Holi- In order to play Holi with the Barsana girls and raise their flag over Shri Radhikaji's temple, men from Nandgaon, the home of Krishna, come to this location. But, the gopis welcome them with sticks rather than colors. As a result, Holi is now known as Lathmar Holi. Men are smart enough to arrive fully armored since they are aware of the sort of greeting they would receive and the knowledge that they cannot take revenge that day.

They make every effort not to get captured throughout this pretend fight. But, the unfortunate ones are dragged away and given a good beating by the women. They are also forced to dance in public while dressed as women. All in the enthusiasm of Holi.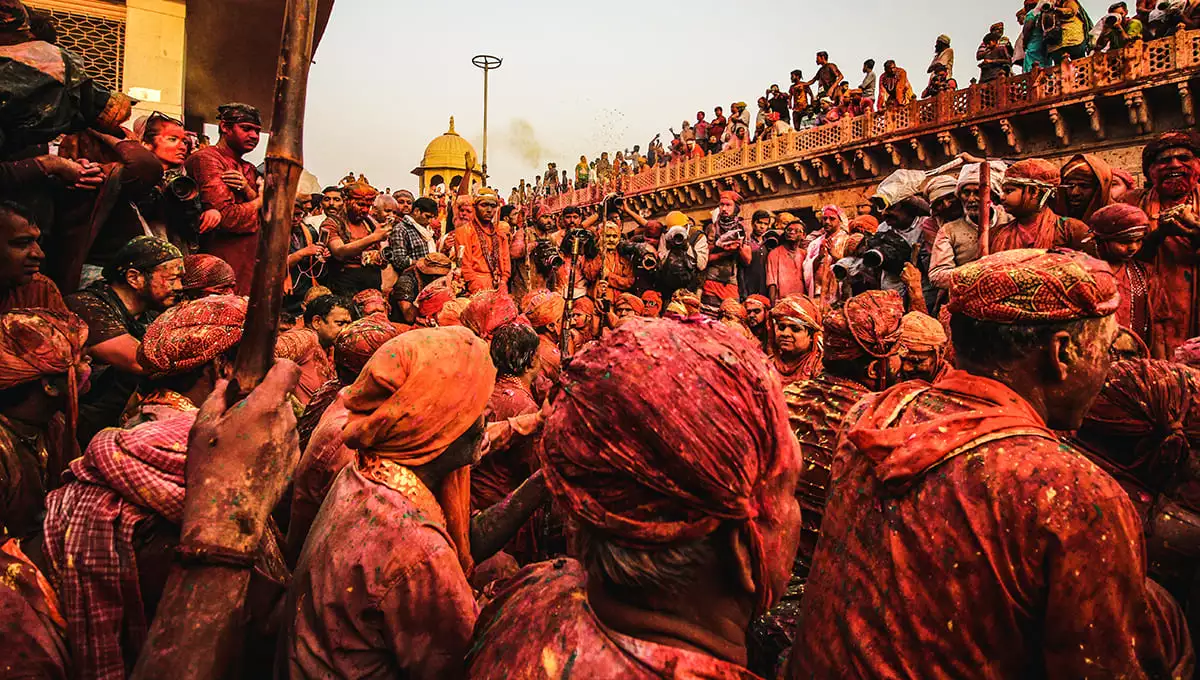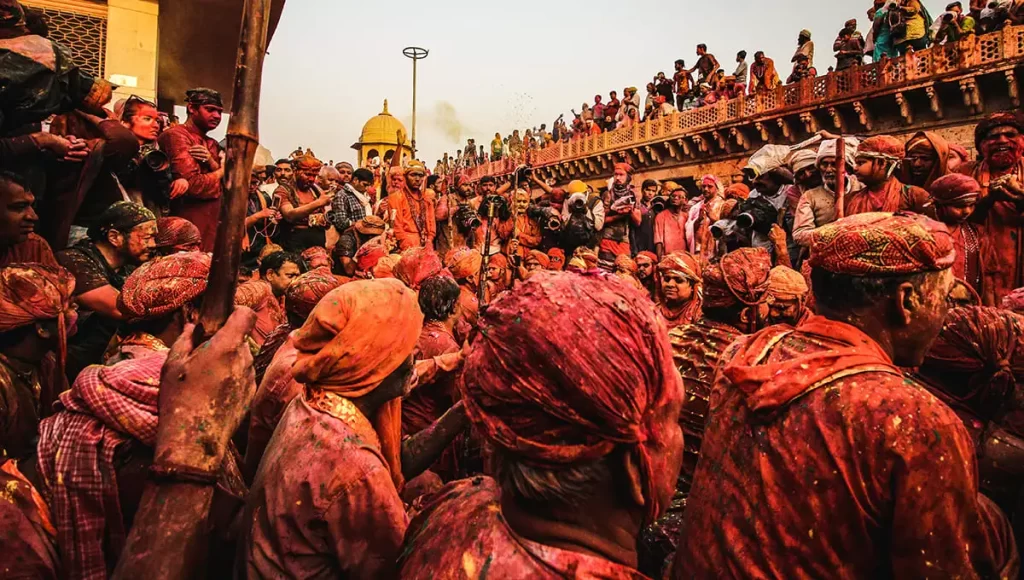 Famous poets like Surdas, Nand-das, Kumbhan-das, and others have evocatively depicted how Lord Krishna went through a similar ordeal and was compelled to wear a sari, apply makeup, and dance before the gopis freed him. The men of Barsana had their chance the next day. In retaliation, they invade Nandgaon and paint the local ladies with palash, a naturally occurring orange-red dye, and kesudo. Today, the Nadagow ladies defeated the Barsana invaders. That is a vibrant scene.
The state tourist board has provided good viewing areas for the general public in the interests of tourism and safety. The most impressive show of the celebrations is reserved for a vast open field on the town's outskirts.
4. Phoolon Wali Holi – In the Bankey Bihari Temple in Vrindavan, "Phoolon Wali Holi" is performed on the festival of Ekadashi, which comes just before Holi. There is no use of water, colour, or anything save flowers during this festivity. This is how it gets its name, accordingly. People come from all around the city and many other regions of the nation to celebrate Phoolon wali Holi, which is a very magnificent event. The Bhakts play it with a lot of enthusiasm as well.
5. Widow's Holi – Vrindavan is a holy and spiritual location and is most likely one of India's oldest towns. Several laws that were in place long ago are still adhered to by the city dwellers. Even now, widows are still expected to avoid wearing any type of make or color and to always dress in white. One such celebration when these women are free to paint their hearts and hands with color is the widow's Holi. They are unconstrained and free to savor the hues of life. Women experiment with colors among themselves during this one-day event that takes place inside of a private space. Prior to the event, the location is chosen, and timings are also assigned.
6. Rang Panchmi – This is the authentic Holi that is celebrated throughout India in various towns. People only use dry colors when playing with colors during Rang Panchami. Water introduction does not take place throughout the event. As part of the Holi celebrations, nearby cities like Vrindavan, Mathura, Barsana, and others paint the streets, ashrams, temples, and ghats in various colors during the course of the day.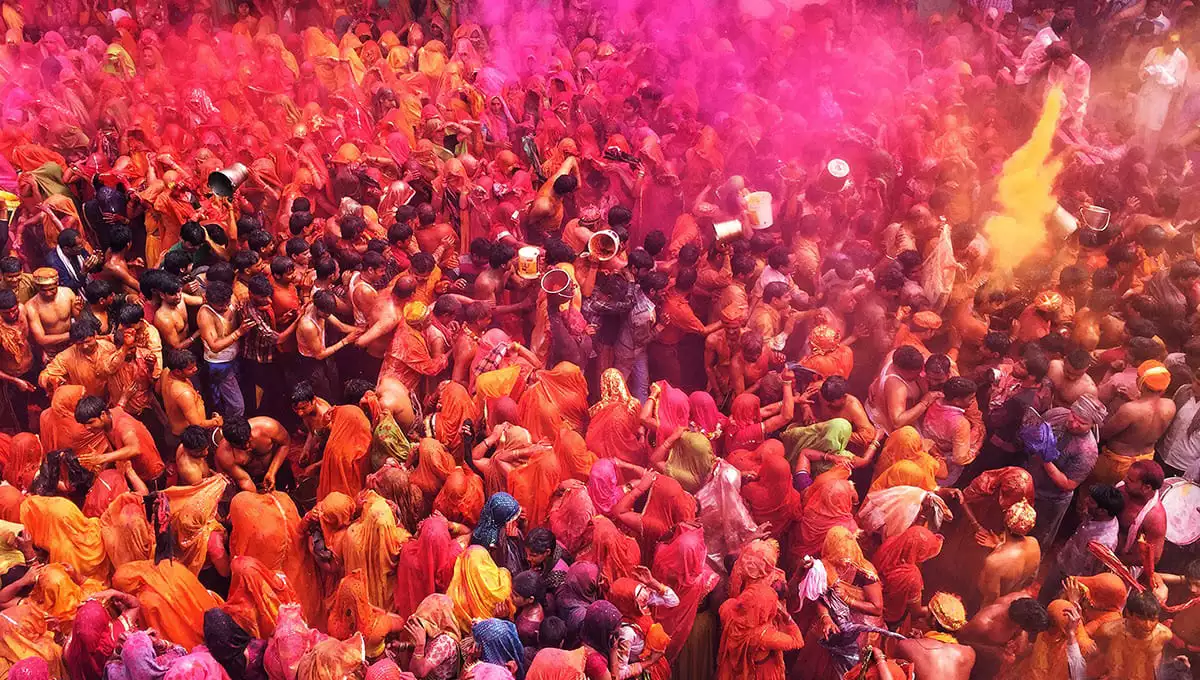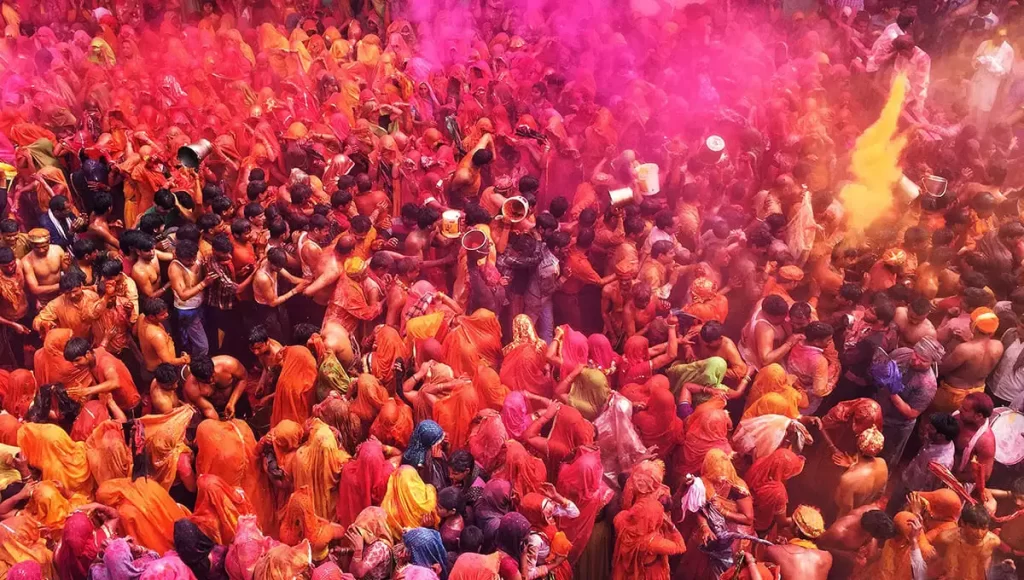 7. Huranga Holi – Another method to celebrate this event is with Huranga Holi. A little shrine called Dauji Temple, about 30 kilometers from Mathura, is where Huranga Holi is celebrated. One day after the main holi celebration, this holi is observed. On this day, women strip men bare and color them from the inside out, but men are not allowed to do the same. They have two options: either they rush away to rescue themselves, or they remain there and accept whatever occurs. Over 500 years ago, when the Krishna Temple was founded in the area, this sort of Holi was first observed.
These are the types of Holi Celebrated in India with lots of Fun and Joy. With this we end the article, hope you enjoyed reading this.
ALSO READ:
WEB STORY: