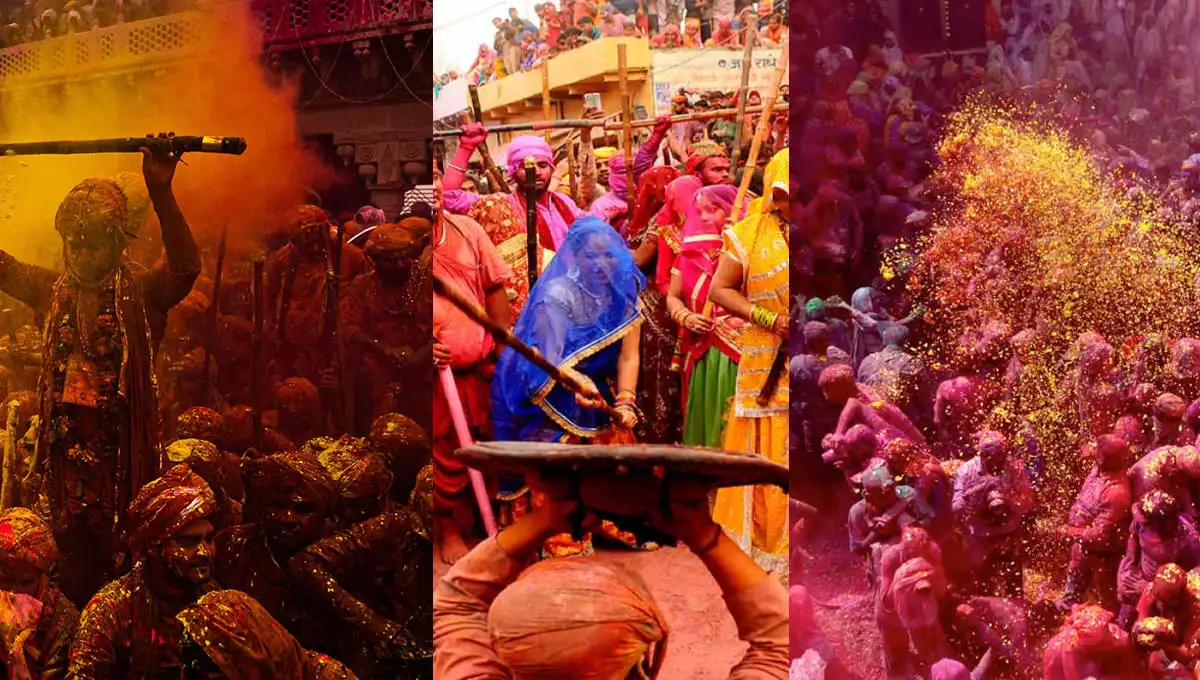 Holi in India: Holi, the festival of colors, is highly awaited and widely celebrated throughout India. This joyous celebration not only covers the skin in vibrant colors but also fills hearts with joy. The best places to celebrate the Holi festival in India provide an unmatched level of festive spirit, immersing you in an exceptional joy experience.
When it comes to celebrating Holi in India, the tourist attractions available vary depending on the type of experience desired. Each region of the country has its own customs and traditions surrounding the festival, resulting in a variety of activities and celebrations. Holi creates an atmosphere of unbridled happiness and revelry because it symbolizes the arrival of spring and the beginning of the harvest season. Despite these differences, the spirit of joy and merriment pervades all Holi celebrations in India.
Holika Dahan, indulging in Bhang Thandai (a delicious milk and saffron drink infused with dry fruits), or savoring bhang pakoras (fritters), as well as DJ parties and live music performances, all contribute to the festive mood of Holi in India. Along with temple rituals and vibrant parades, even the royals join in the fun, making Holi celebrations in India an enticing reason for visitors from all over the world to visit. The large influx of international tourists during Holi is a testament to the festival's colorful and exciting atmosphere.
Holi In India: 10 Colorful Destinations to Celebrate Holi
1. Braj Ki Holi – Uttar Pradesh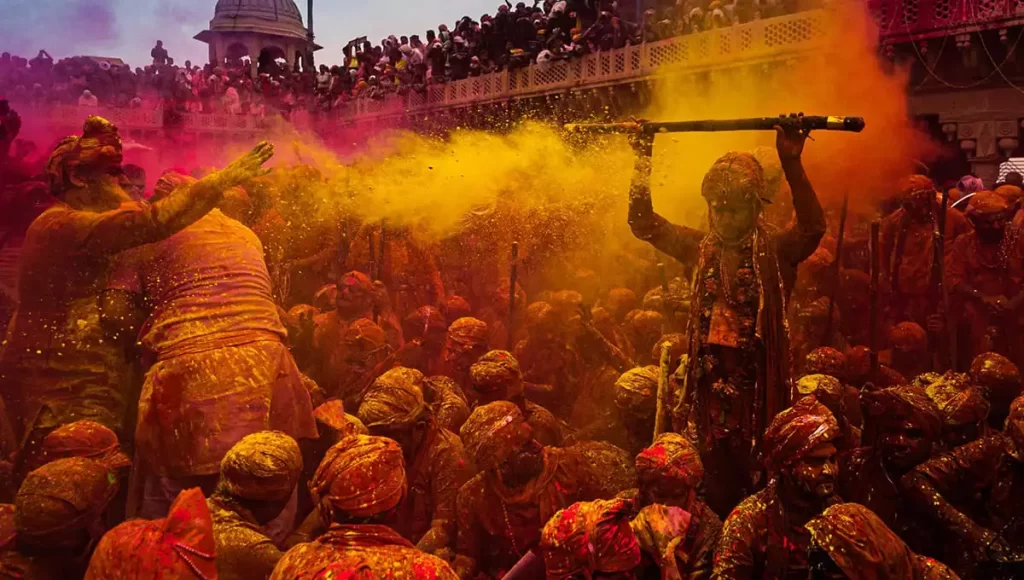 Located in the Northern state of Uttar Pradesh, Braj is renowned for its unique and exotic way of celebrating the festival of colors, Holi. As per the legend, the roots of Holi can be traced back to Braj, Which is considered to be the birthplace of Lord Krishna and Goddess Radha.
In Braj, the Holi festivities commence on the first day of Amavasi in the month of Phalgun, but the celebrations kick off on the day of Ekadashi. While only one or two days of the official holiday are declared for Holi across India, the people of Braj get to enjoy eight days of festivities to mark the occasion.
In Braj, the Holi celebrations extend for a whopping 50 days. The festivities kick off on the day of Basant Panchami and take place in several locations including Vrindavan, Mathura, Barsana, Nandgaon, Dauji, Goverdhan, and Baldev. The people of Braj revel in the spirit of the festival throughout these 50 days, making it a truly unique and memorable experience.
2. Laddoo Ki Holi – Mathura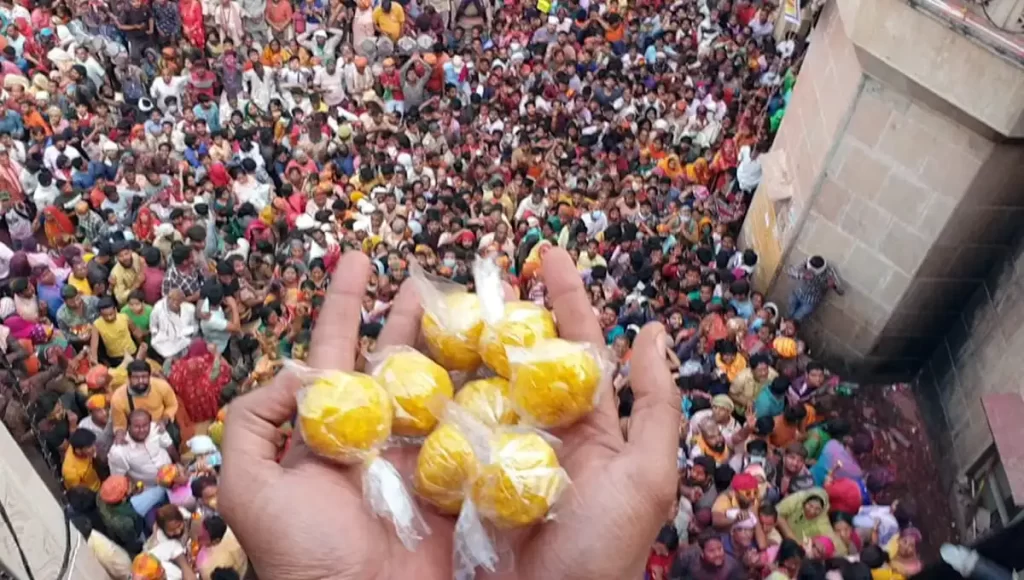 Barsana, situated approximately 50 km from Mathura in Uttar Pradesh, celebrates Holi in a unique manner in the Radha Rani temple. The distribution of Laddoos, among the devotees, signifies the arrival of Lord Krishna from Nandgaon to meet Radha in Barsana.
As per the legends, Lord Krishna used to play and tease Radha during his visits to Barsana, which resulted in him and his friends getting chased away by the group of girls. This is why the 'Laddod Holi' is celebrated a day prior to the Lathmar Holi Festivities in Barsana.
3. Phoolon Ki Holi – Vrindavan & Pushkar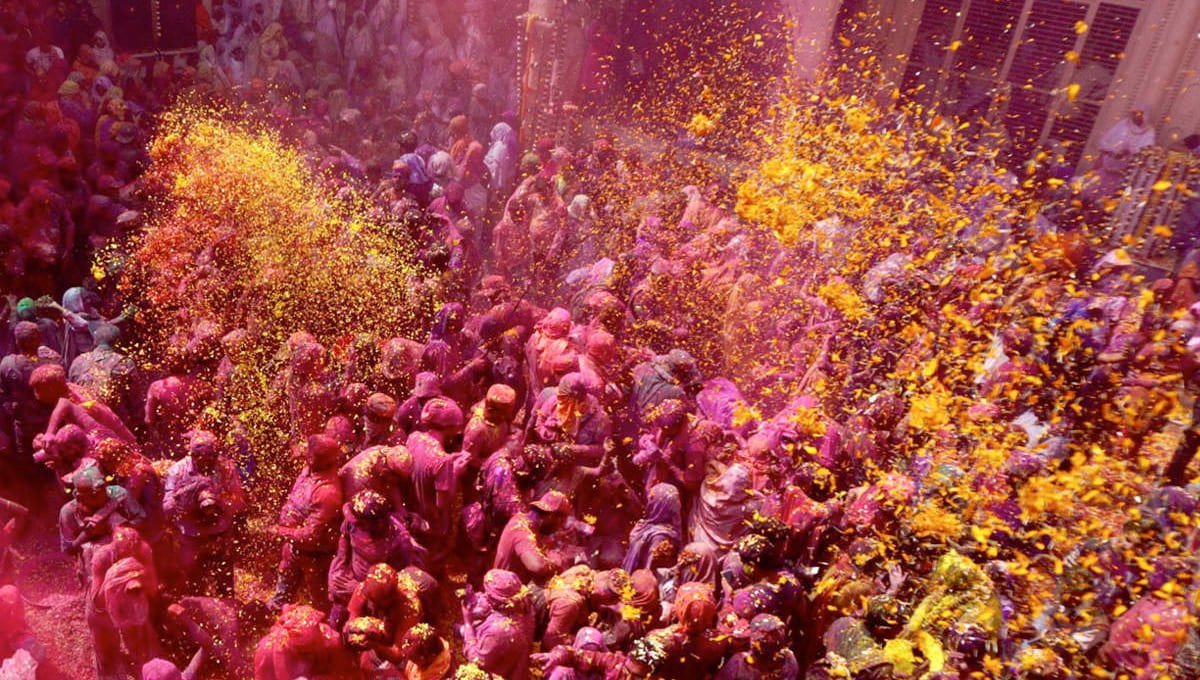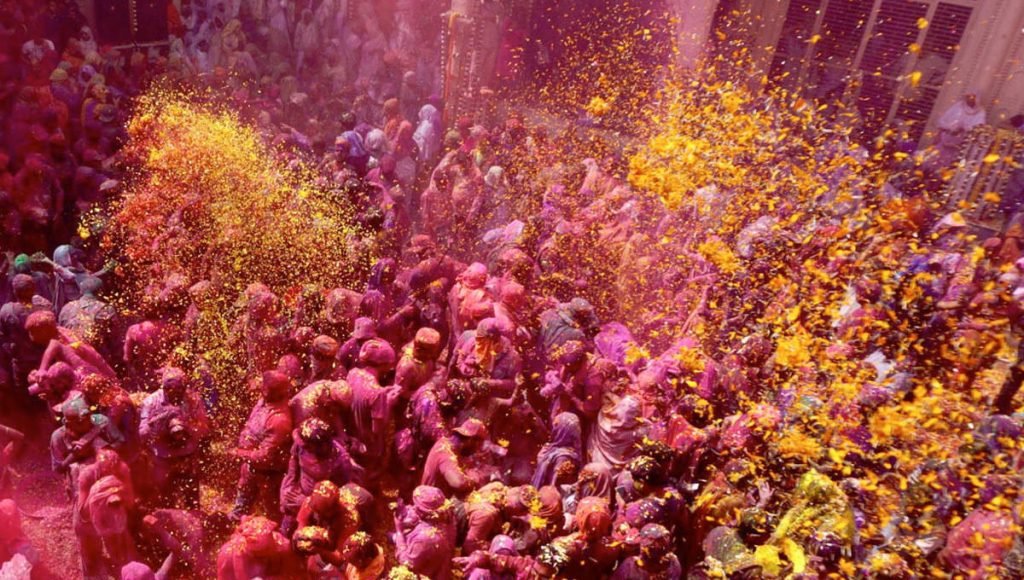 Vrindavan, where Lord Krishna spent his childhood, is famous around the world for its flower-based Holi celebration. If you visit Vrindavan this March, you will be able to witness this one-of-a-kind floral Holi event, in which locals and thousands of pilgrims throw flower petals at each other in order to foster brotherhood and establish a spiritual connection with Lord Krishna's life.
Pushkar, one of Rajasthan's most popular tourist destinations, offers a unique Holi experience. A few days before Holi, devotees of Lord Krishna celebrate the festival with flowers rather than colors. The celebration includes drumming and singing devotional songs in honor of Lord Krishna.
4. Lathmar Holi – Mathura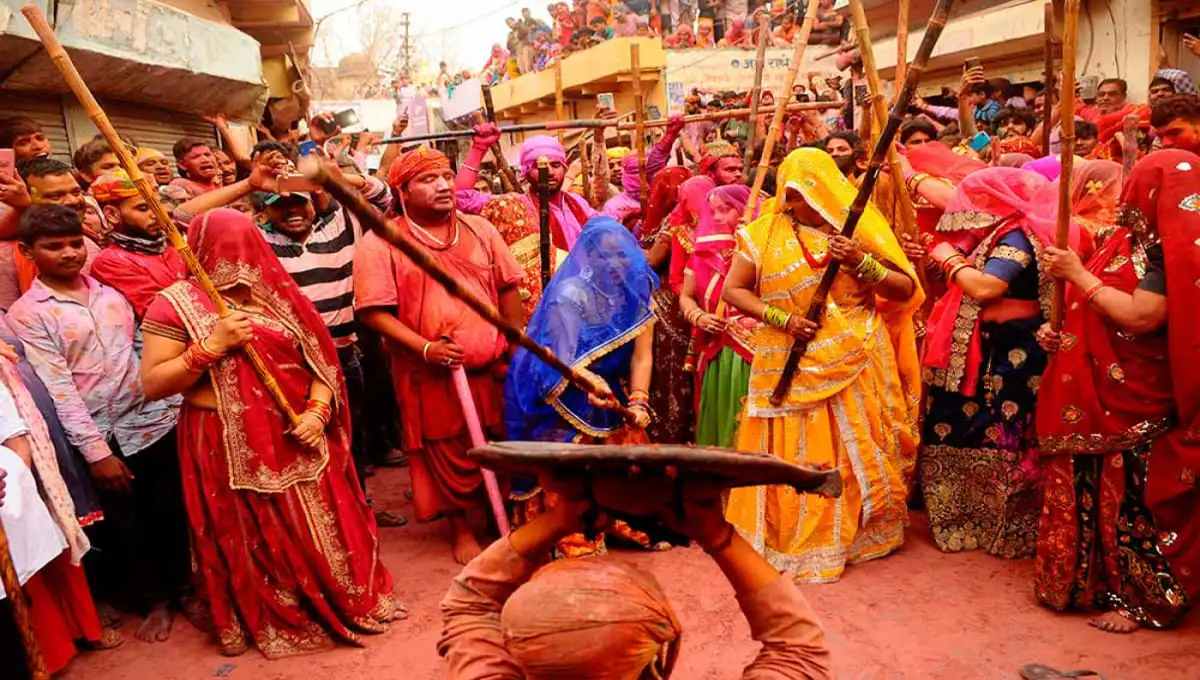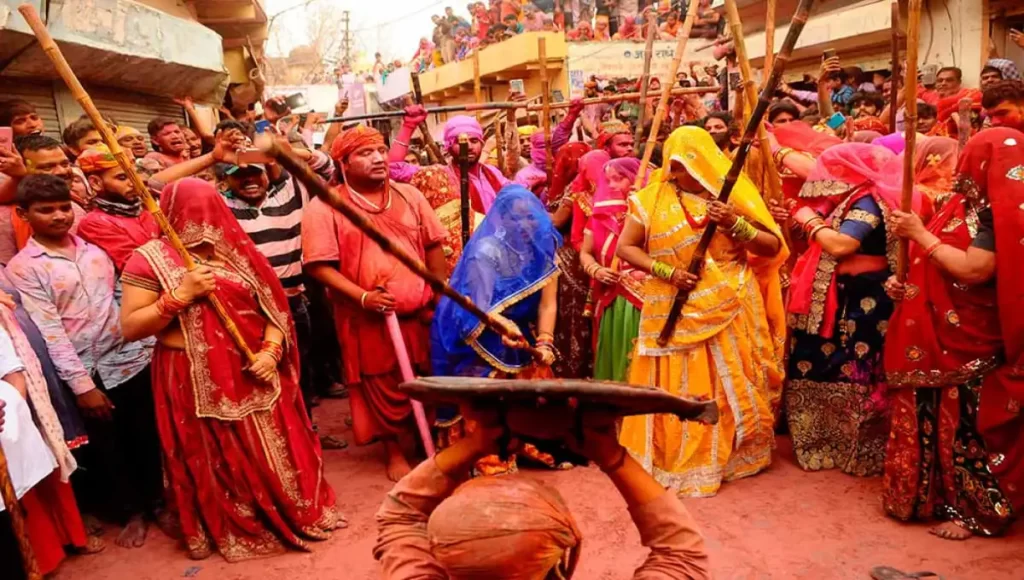 Barsana and Nandgaon, two towns in Uttar Pradesh, celebrate Lathmar Holi a few days before the main Holi celebration, drawing numerous tourists and devotees every year to witness this remarkable event. According to legend, Lord Krishna used to visit Barsana to play and tease Radha but was driven away by village women. This historical event is reenacted during the Lathmar Holi celebration.
As per the legend, the women of Barsana still carry on the tradition of chasing the men from Nandgaon, Lord Krishna's village, and hitting them with sticks during Lathmar Holi. Barsana is unique in that it is the only place in India with a temple solely dedicated to Radha, and its compound is always filled with spectators observing the Lathmar Holi festivities. Visitors can enjoy traditional Holi songs in Braj Bhasha while locals loudly praise Lord Krishna and Radha with chants of "Sri Radhey" and "Sri Krishna."
5. Eleholi – Jaipur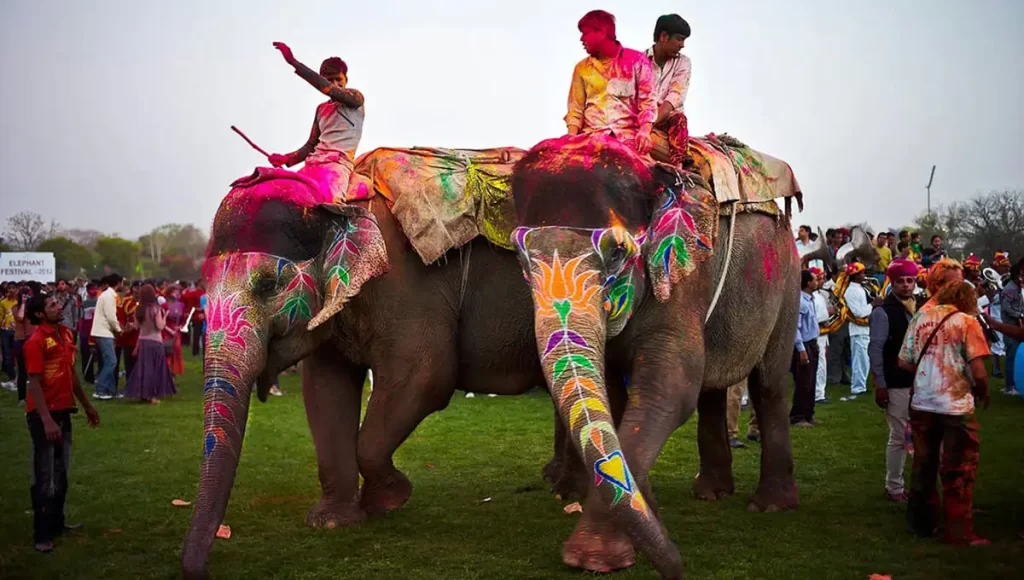 Holi is celebrated with great enthusiasm in Rajasthan, one of India's major tourist destinations, with unique customs and traditions. The festival is observed for several days, with the belief that lighting a bonfire will help rid homes of negativity and darkness.
Rajasthan Tourism organizes a morning celebration on the lawns of the Khasa Kothi hotel, where visitors can witness the joyous throwing of colors and experience the folk music of Rajasthan. Another unique Holi celebration can be enjoyed at Eleday elephant sanctuary, located near the Amber Fort in Jaipur, where Eleholi is observed with the participation of huge adorable elephants in various Holi programs.
6. Shantiniketan – Kolkata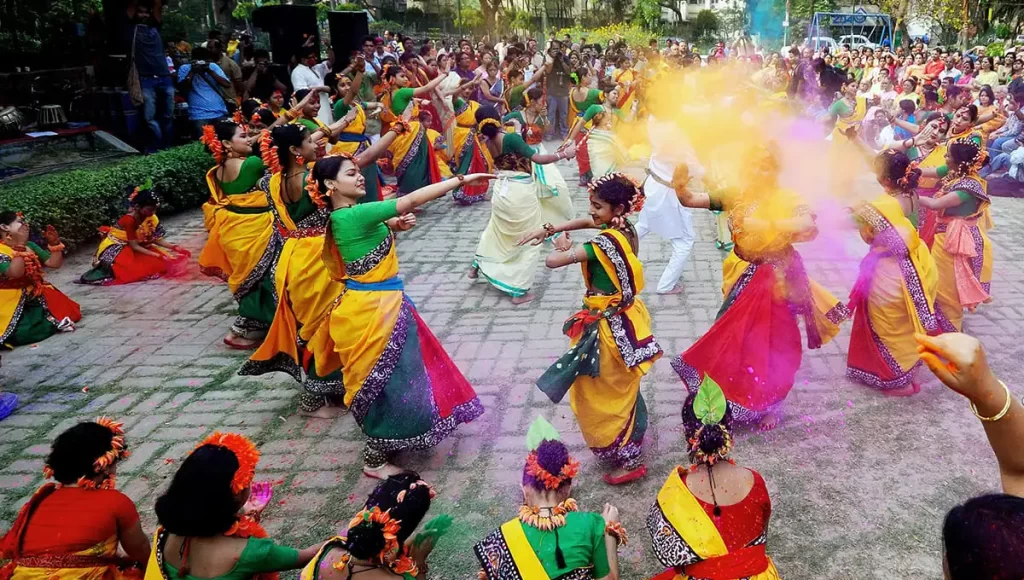 In West Bengal, Holi is celebrated as Basant Utsav or Spring Festival. This tradition was initiated by Nobel laureate Rabindranath Tagore at his university, Shantiniketan, Kolkata. During Basant Utsav, young boys and girls in Shantiniketan welcome the arrival of spring with music, dance, and chanting hymns, while also sprinkling colors in a joyous manner. Visiting the serene atmosphere of Shantiniketan to experience this elegant way of celebrating Holi can provide unforgettable memories that will be cherished for a lifetime.
7. Holi in Mumbai – Maharashtra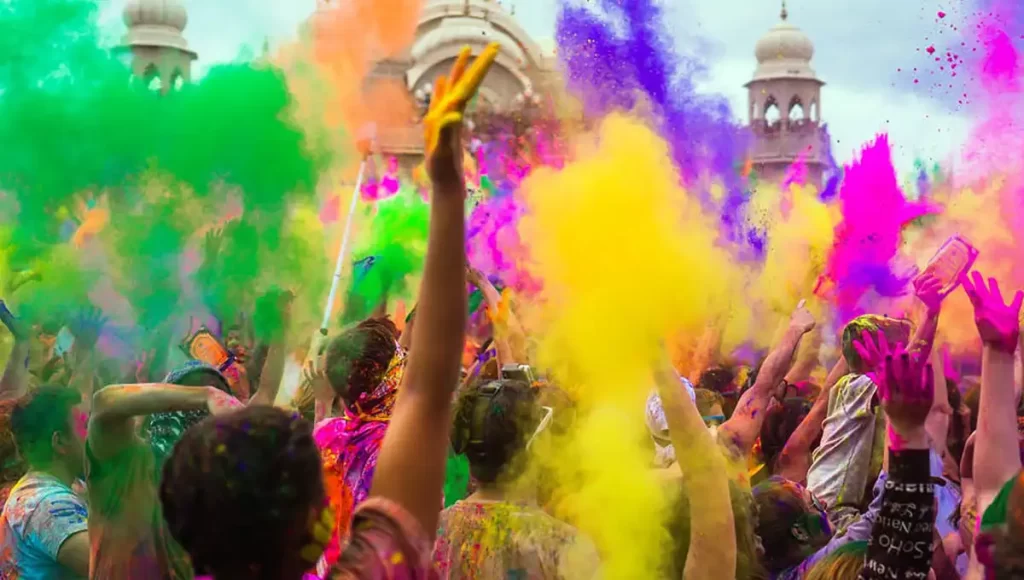 In Maharashtra, Holi is celebrated with great enthusiasm and is known as Rangpanchami or Shimga. The colorful festivities begin on the fifth day of the Holi celebration. People also relish the traditional and delicious Maharashtrian delicacy called Puranpoli. This festival is particularly popular among the fisherfolk community, who participate in dancing, singing, and other merry-making activities.
8. Holi in Manipur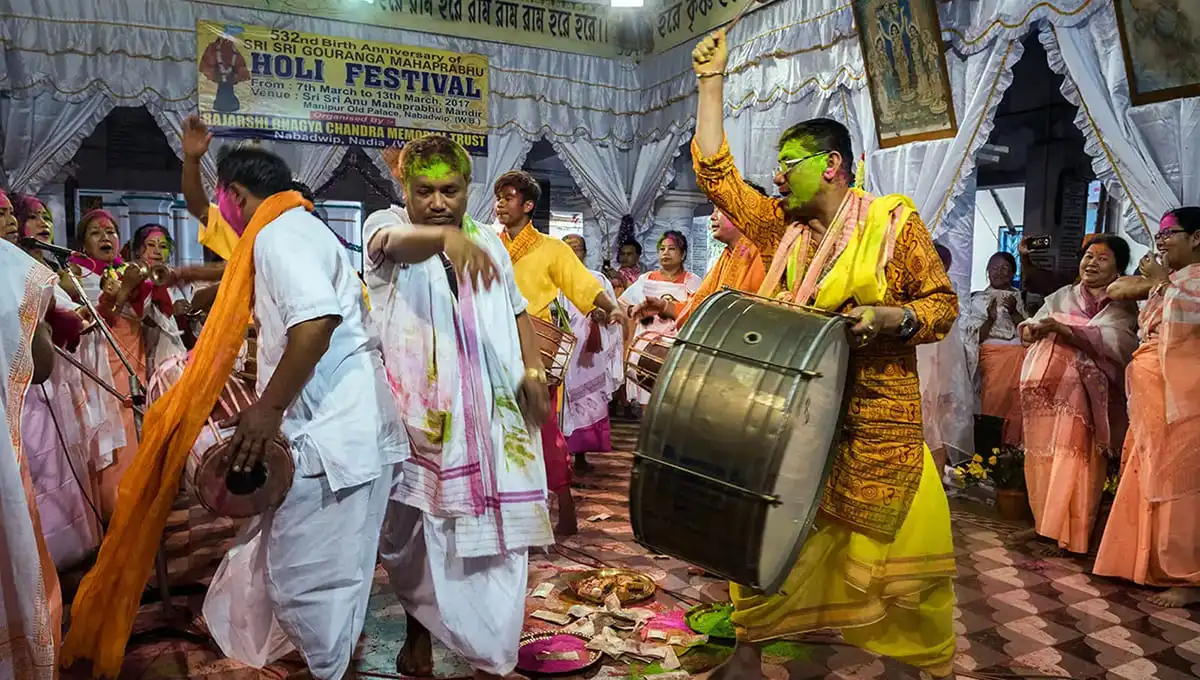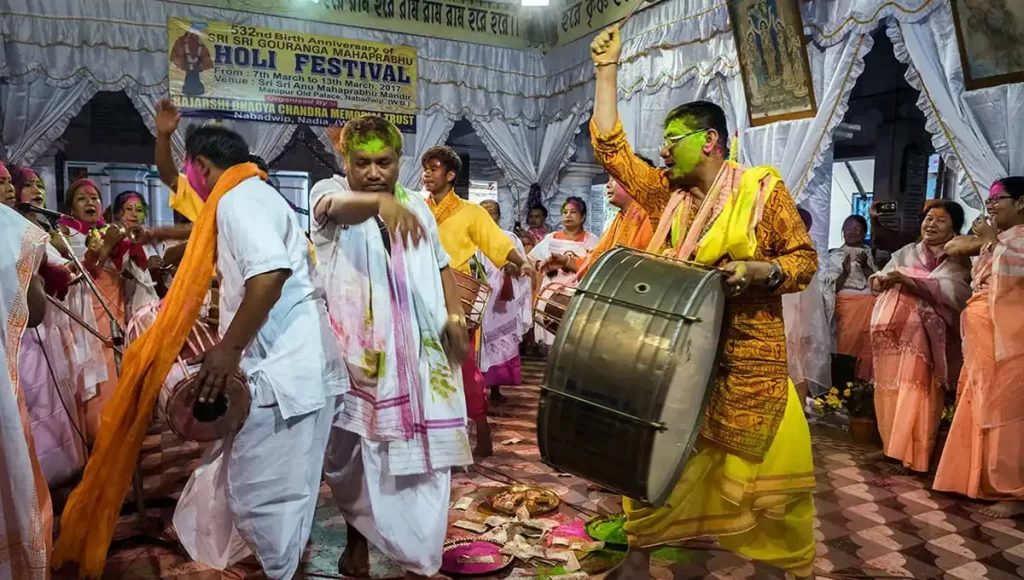 In Manipur, the festival of colors, locally known as 'Yaoshang', is celebrated with much enthusiasm for five days. The celebration begins with the worship of Lord Krishna, followed by the burning of a straw hut called 'Yaoshang Meithaba'. Young boys and girls, dressed in traditional costumes, then go from door to door seeking 'Nakatheng', which is a customary way of asking for money during the festival.
9. Holi in Punjab – Hola Mohalla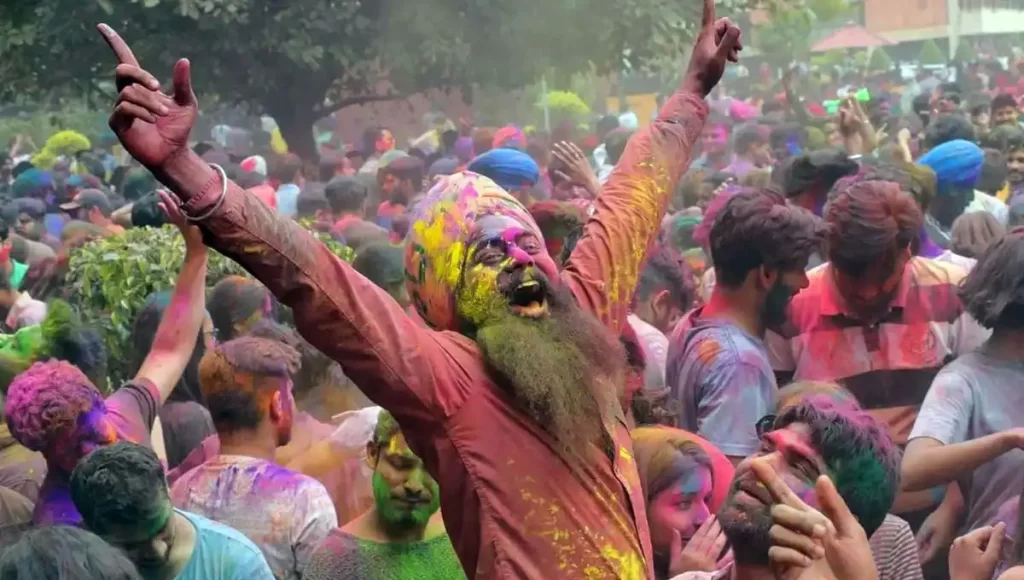 The people of Punjab celebrate Holi in a unique and energetic style known as 'Hola Mohalla'. They follow a distinct tradition, where they exhibit their martial arts skills and shout to their hearts' content. In the evening, people enjoy the colorful festivities and savor traditional delicacies such as gujias, halwa, puris, and malpuas. Unlike other regions, the celebration in Punjab does not involve lighting a bonfire during the festival.
10. Holi in Delhi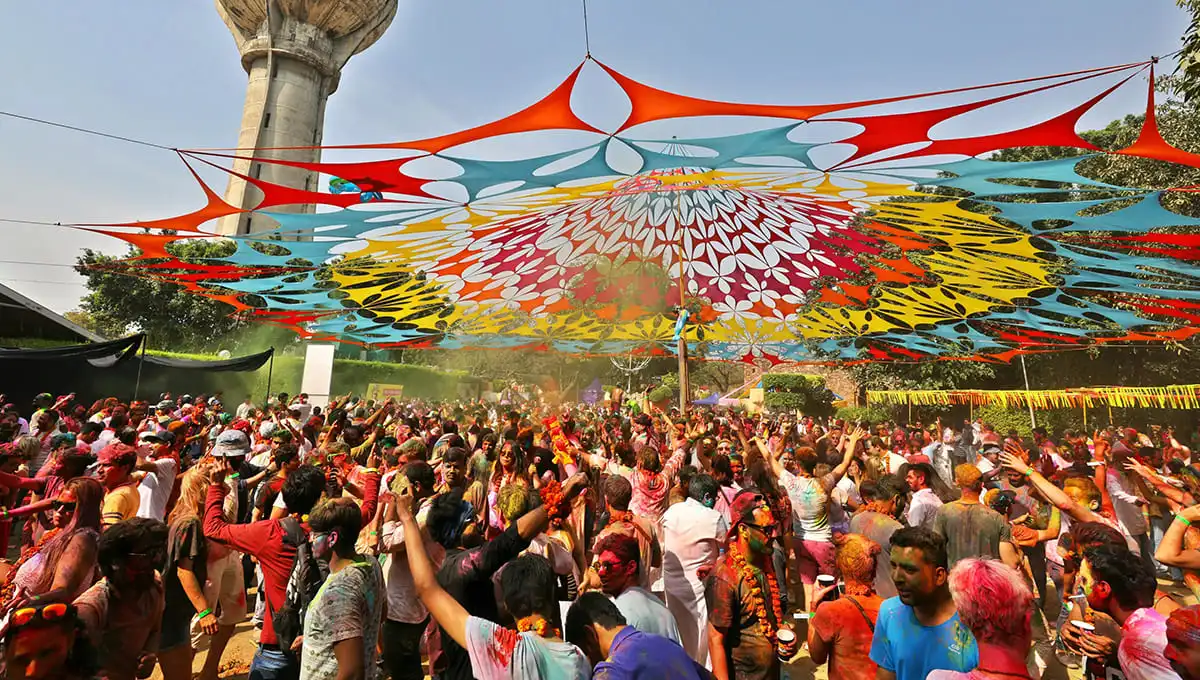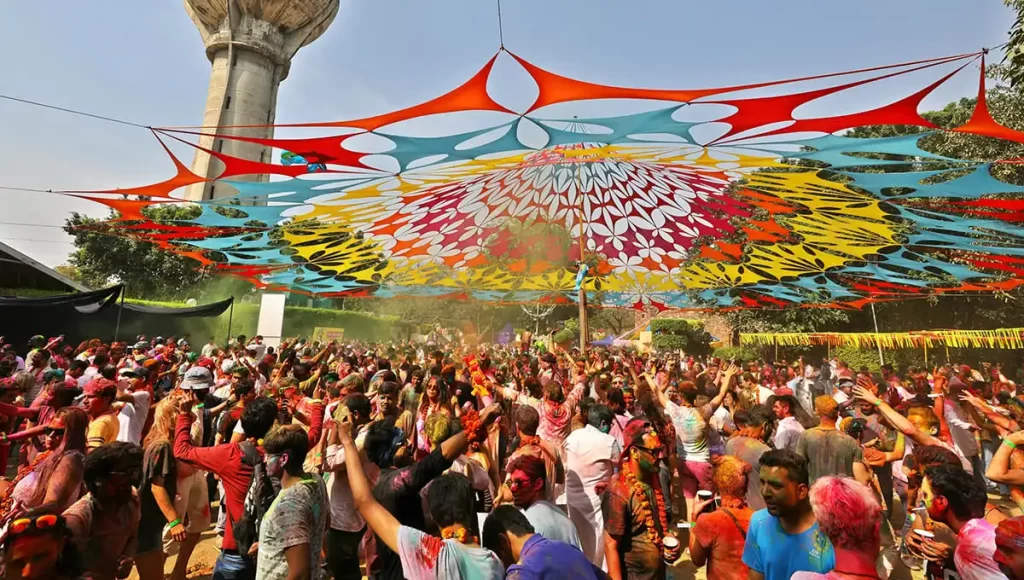 Holi celebrations in Delhi are vibrant and full of enthusiasm. The entire city comes alive with colored water-filled balloons being thrown around, pichkaris spraying colors, and clouds of gulal painting the city in bright hues. If you're wondering where to head in Delhi to celebrate Holi, the Holi Moo Festival (previously known as the Holi Cow Festival) is the place to be. Here, you can enjoy a fantastic Holi celebration with performances by Indian and international artists.
Also Read