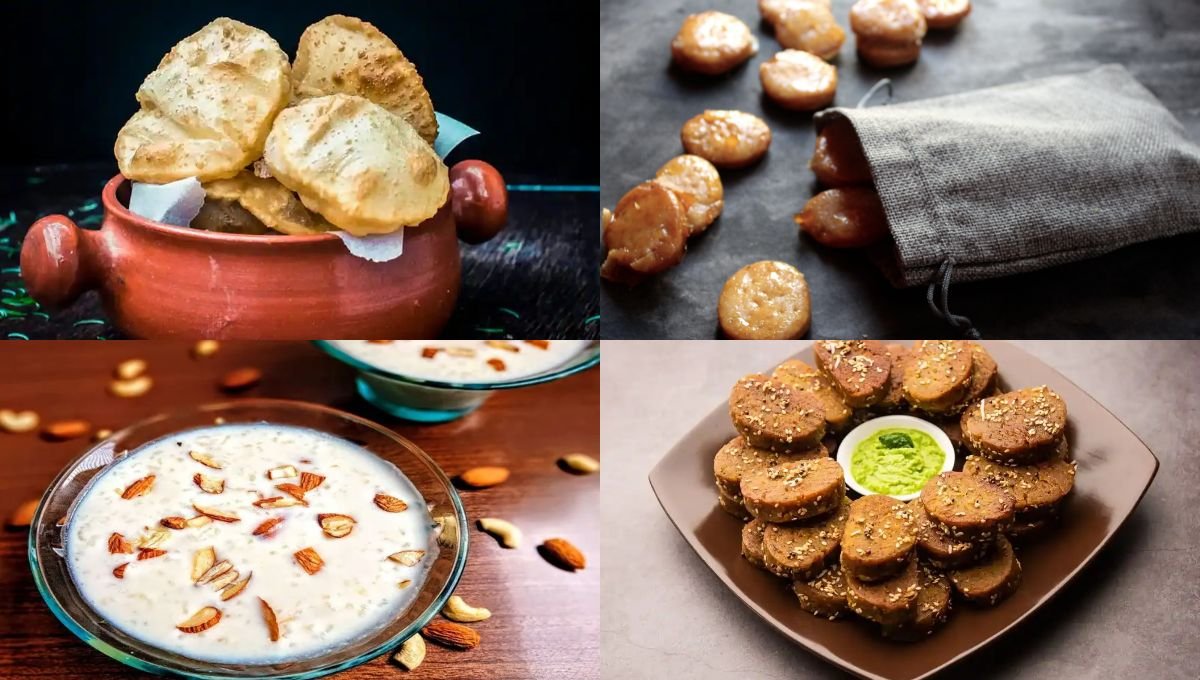 10 Authentic Chhattisgarhi Dishes You Must Try: Exploring the vibrant culinary tapestry of Chhattisgarh is an absolute delight for any food enthusiast. From the first bite, you're transported to a realm where flavors dance harmoniously on your palate. The local cuisine is a tribute to the region's rich cultural heritage, each dish a masterpiece painted with love and tradition. The aroma of freshly ground spices fills the air as you savor bites that tell stories of generations past.
Hearty and soul-soothing, these dishes celebrate locally sourced ingredients, prepared with a skill that's been honed over centuries. The burst of tangy, spicy, and sometimes subtly sweet notes is nothing short of a symphony for your taste buds. Every morsel brings you closer to the heart of Chhattisgarh, a journey that's as much about the food as it is about the warmth of the people who craft it.
Muthia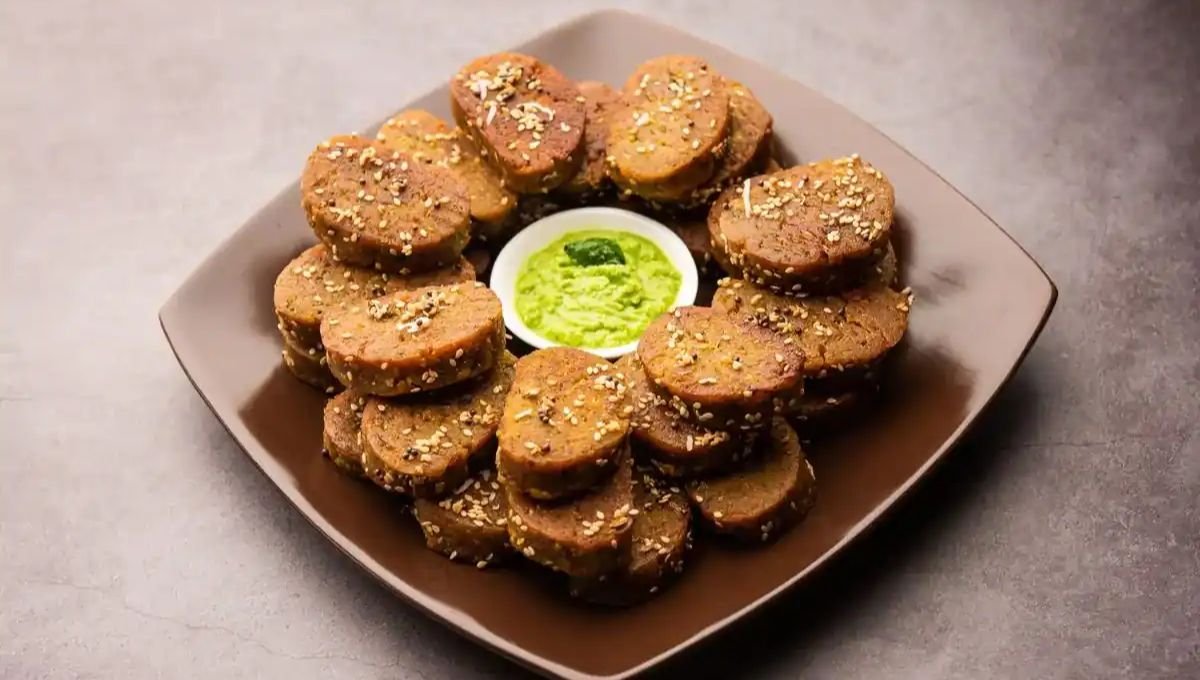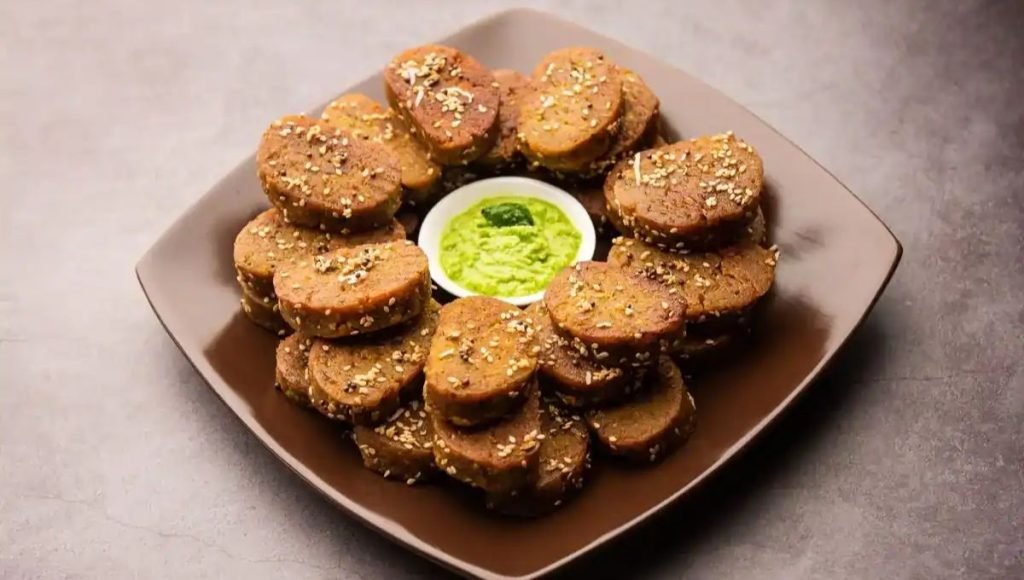 Chhattisgarh's culinary treasures proudly find their place in the realm of renowned local foods. Crafted from a wholesome rice batter and lovingly steamed, these delectable dumplings embody both taste and tradition. Adorned with the crunch of sesame seeds and the freshness of coriander, they emerge as not just a feast for the palate, but a treat for the eyes as well. Brimming with flavors, Muthia stands as a beloved breakfast option and a delightful accompaniment to afternoon tea, reflecting the heartwarming essence of Chhattisgarh's gastronomic culture.
Dal Pithi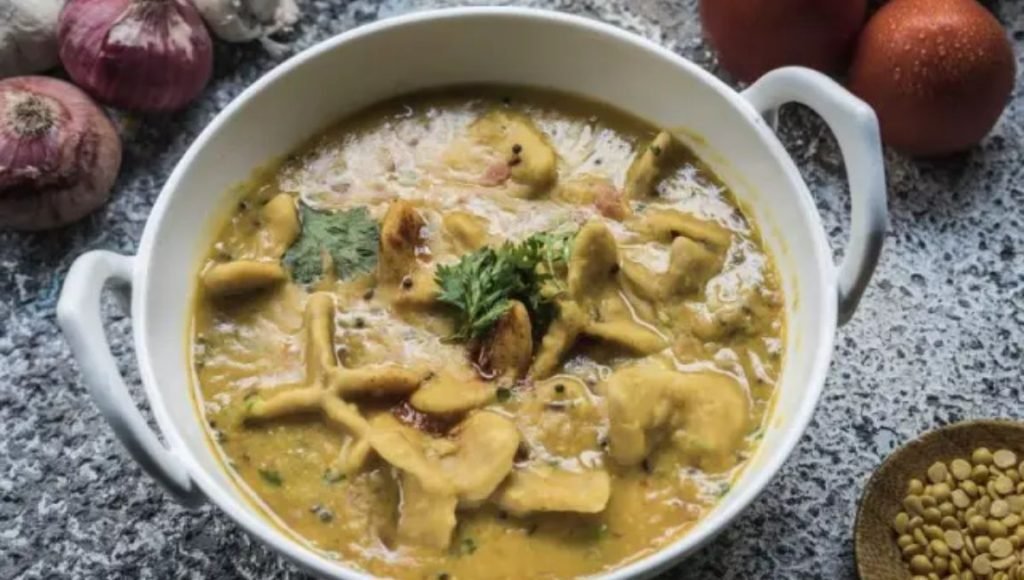 One of the healthful Chhattisgarhi cuisine, the spotlight confidently falls on Dal Pitthi—a nutritional powerhouse. These petite flour dough rounds, lovingly integrated into the dal and harmoniously cooked, symbolize a blend of simplicity and nourishment. Beyond its easy and swift preparation, Dal Pitthi shines as an embodiment of wellness. Rich in protein, it stands as a scrumptious testament to a hearty and complete meal choice. The essence of Chhattisgarh's culinary heritage flourishes within this dish, celebrating both flavor and wholesomeness, making it a truly exceptional option that resonates with those seeking a balanced and flavorsome dining experience.
Bhajia/ Bhaji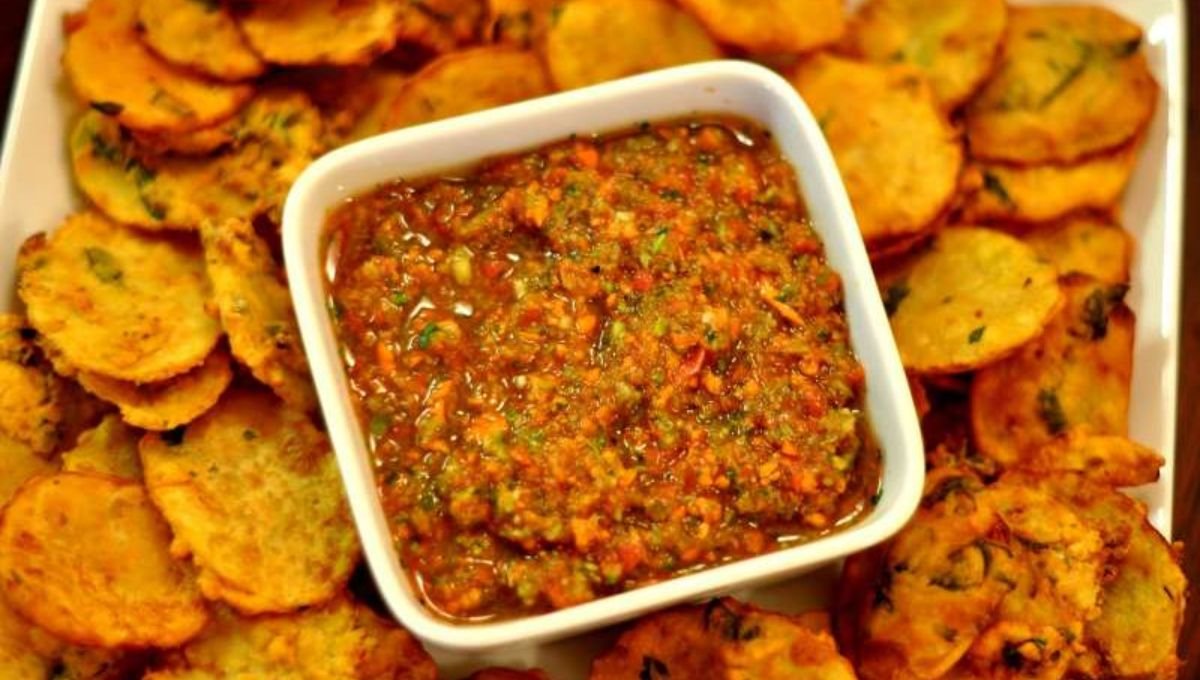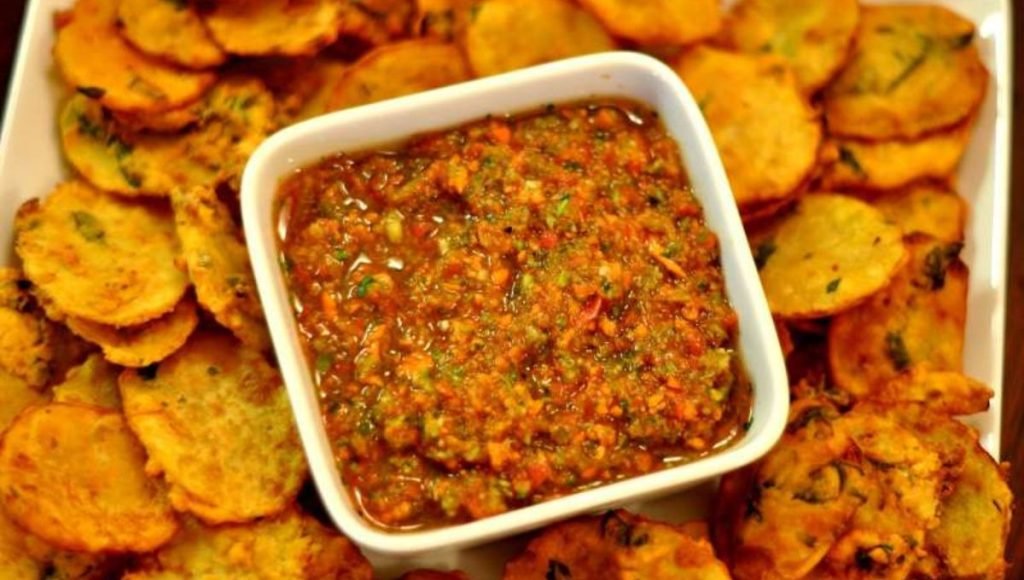 No compilation of Chhattisgarh's culinary delights is complete without the mention of Bhajia, an epitome of indulgence. Crafted from besan (gram flour) and fried to perfection, Bhajia stands as a savory emblem of the region's flavors. Varieties abound, from the classic Onion Bhajia to the fiery Chilli Bhajia, the humble Brinjal Bhajia, and the ever-loved Aloo Bhajia. Immersed in a gram flour coat, the star ingredient takes a delicious plunge into hot oil, resulting in a symphony of spice and crunch. With its tantalizing zest, Bhajia harmonizes flawlessly with a cup of tea, epitomizing the vibrant street food culture that graces the heart of Chhattisgarh's culinary scene.
Tasmai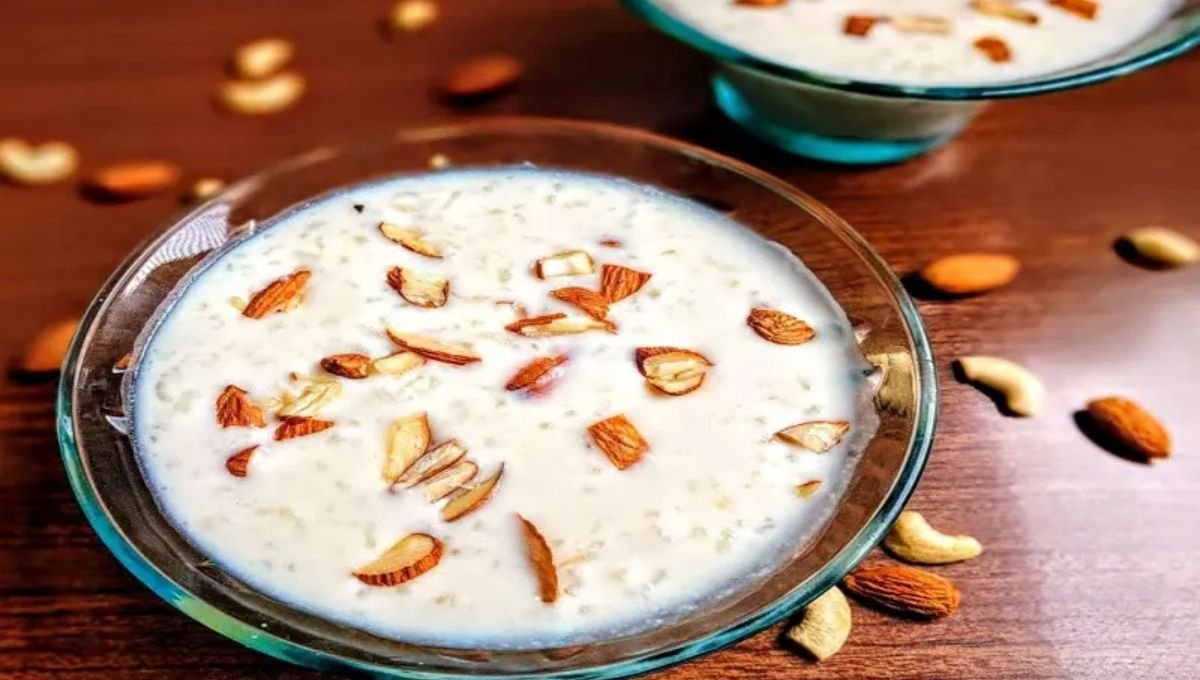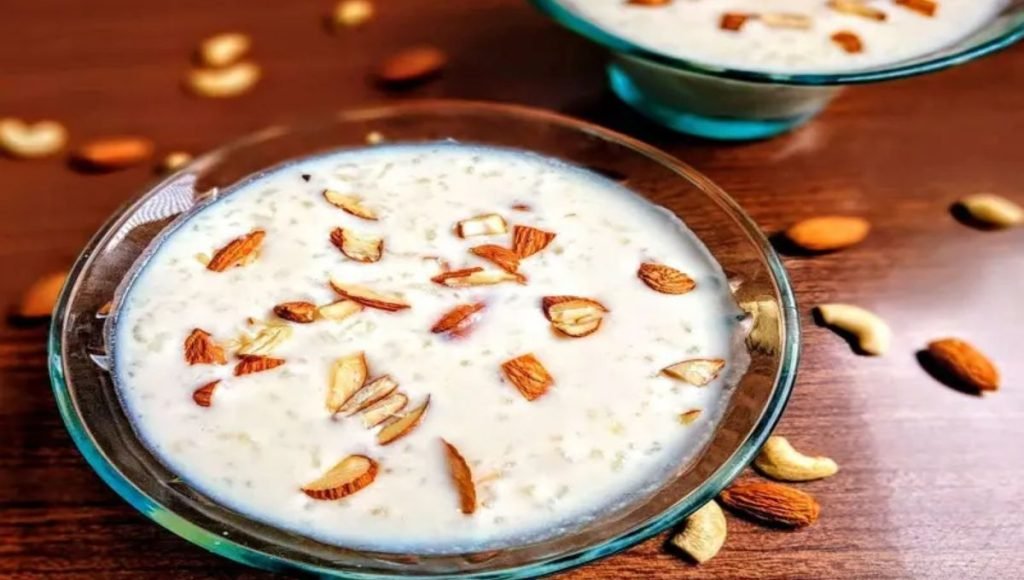 Adding to the array of renowned culinary treasures, Tasmai emerges as a beloved dessert from the region. This delectable delight, akin to kheer, weaves magic with the fusion of rice and milk. A symphony of flavors unfolds as these ingredients unite in a harmonious dance, crafting a luscious rice pudding that satiates the craving for sweetness. Known for its richness and thickness, Tasmai holds its place as a cherished dessert option, captivating the hearts of those who relish a delectable treat
Chousela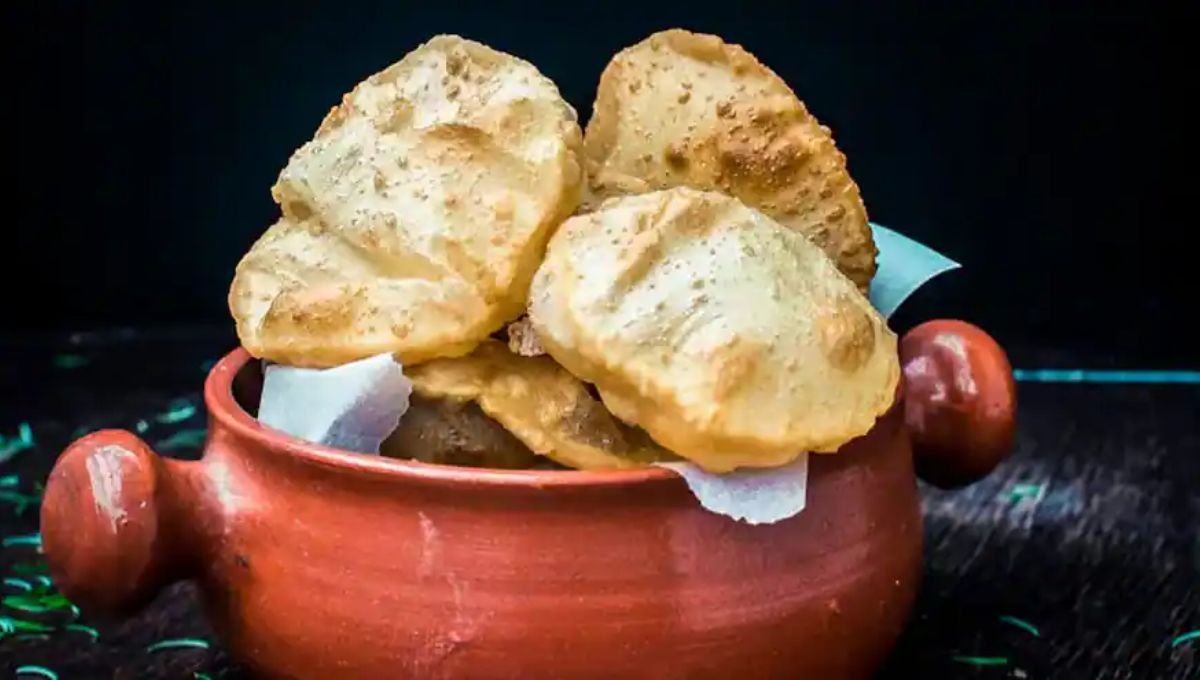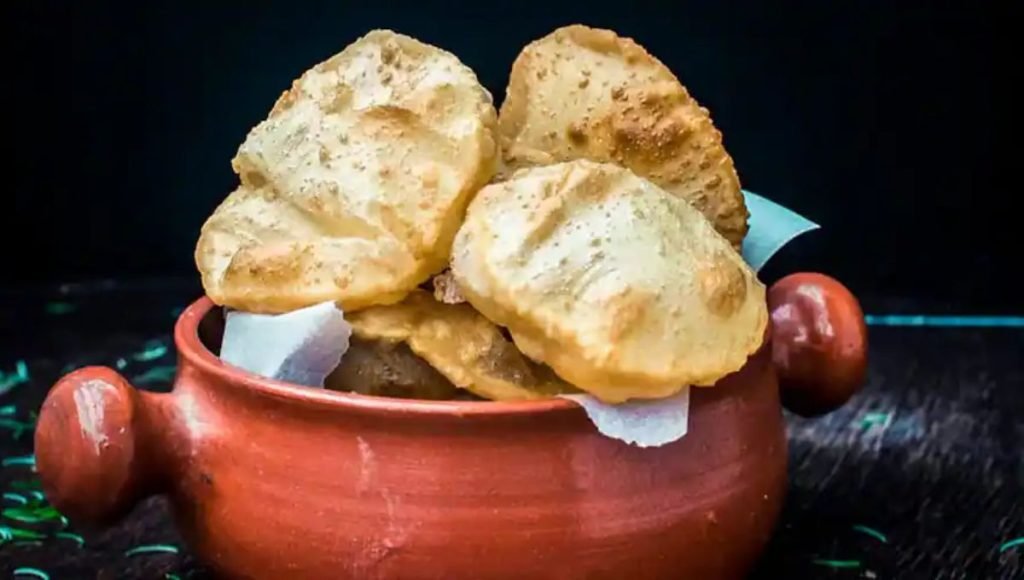 Chousela proudly stands as an iconic dish. Crafted from rice flour, this Puri captures the essence of Chhattisgarh's rich heritage. Often prepared with freshly harvested paddy, Chousela requires minimal labor while promising maximal satisfaction. Once fried to perfection, it transforms into a crisp delight that, when cooled, offers a satisfying crunch. However, it's the warmth that truly unveils its charm. Best enjoyed piping hot, Chousela paints a delectable picture of a simple yet deeply flavorful experience, embodying the heart and soul of local gastronomy.
Suran Ki Sabji/ Jimikand ki Kadhi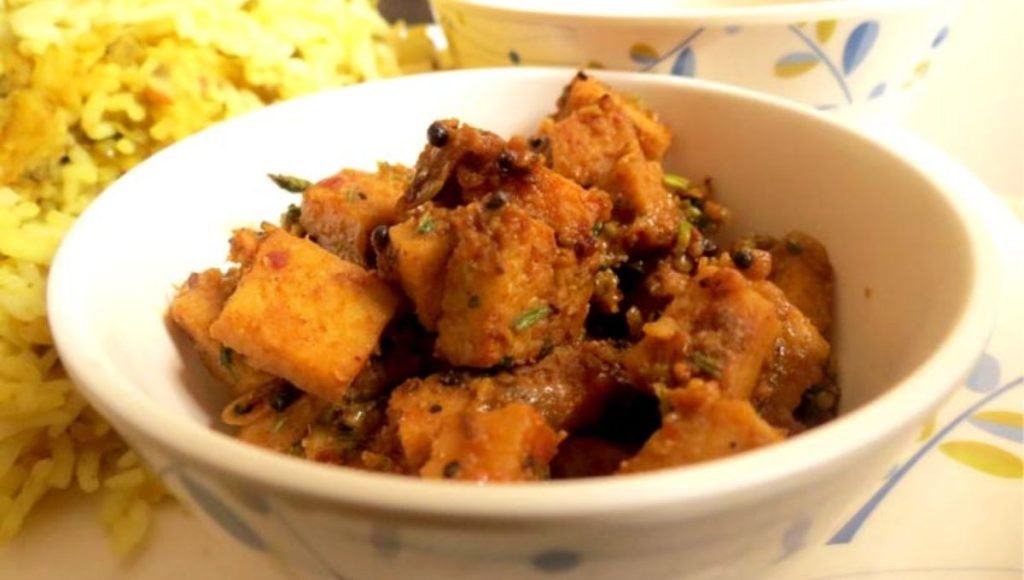 Enjoyed as a culinary treasure, Suran ki Sabji, or Jimikand, emerges as a beloved dish from the heart of Indian tradition. This esteemed vegetable is an emblem of Chhattisgarhi gastronomy, its popularity woven deeply into local culture. Especially adored during the Diwali Festival, it infuses festive spirit into every bite. The process involves boiling Suran to tender perfection, followed by a transformative deep-frying ritual that turns it irresistibly crispy. A symphony of mango powder and spices follows, granting an explosion of taste. Served steaming alongside rice, Suran ki Sabji beckons as a quintessential Chhattisgarhi experience, where flavors and traditions converge harmoniously.
Papchi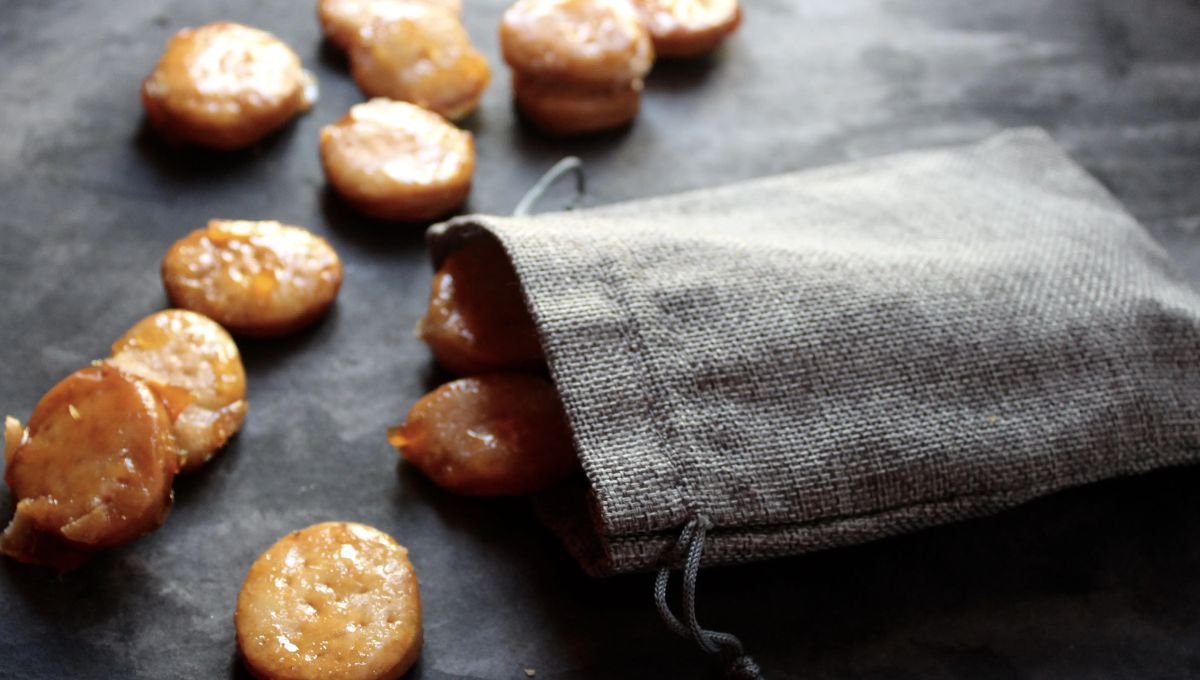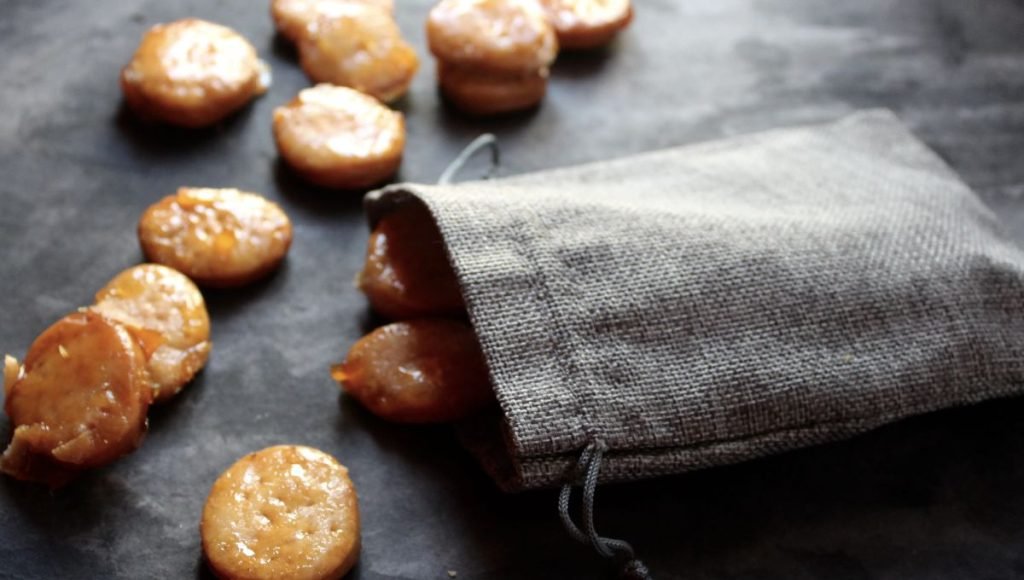 An epitome of Chhattisgarhi, Papchhi is a cherished delicacy crafted from wheat flour. This heartwarming dish takes the form of flattened dough circles, kissed by golden-brown perfection through a delightful frying process. Post-frying, a sweet transformation unfolds—coated either in sugar's embrace or with the gentle touch of jaggery. The culinary canvas of Chhattisgarh is renowned for its simplicity and enchanting flavors, a reputation that Papchhi upholds with pride. This treat, a symphony of textures and tastes, bridges the gap between tradition and the joy of indulgence, endearing itself to both locals and curious explorers of this vibrant culinary realm.
Khurma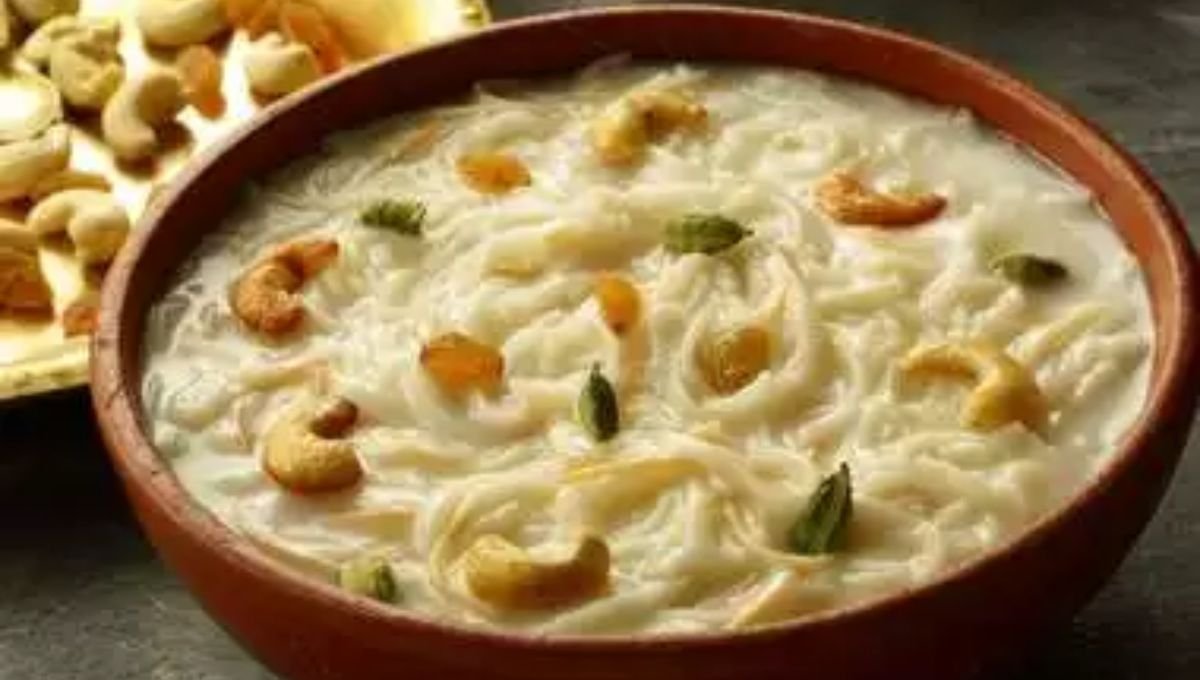 Khurma, a beloved indulgence, emerges as a sweet symphony crafted from fried wheat flour and a sugary embrace. Festivals witness its enchanting presence, reminiscent of celebrations. The dish shares kinship with Punjab's Shakkar para, uniting diverse culinary narratives. Not confined to Chhattisgarh's boundaries, Khurma's fame transcends, captivating hearts in Madhya Pradesh, Bihar, Uttar Pradesh, and beyond. Across these landscapes, the confluence of flavors and festivities marks its significance, rendering it a treasured choice for those seeking the magic of taste and tradition in every delightful bite.
Idhar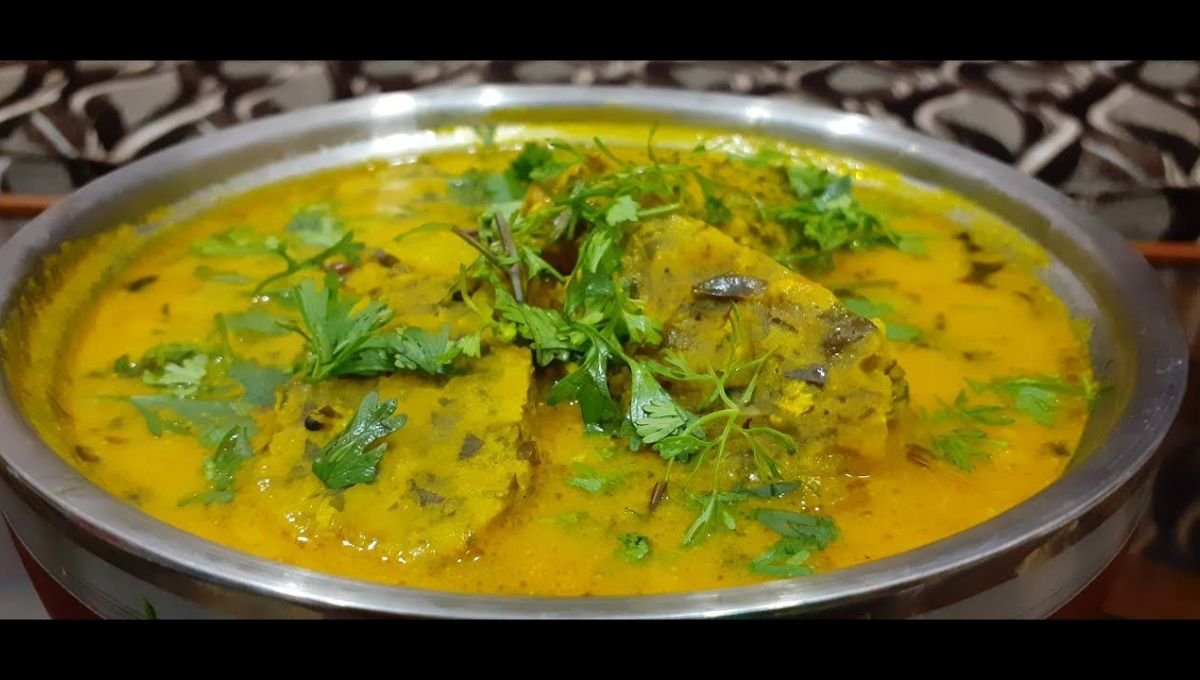 Elevating the fame of Chhattisgarh's culinary repertoire, Idhar takes center stage with its irresistible allure. This masterpiece, woven from urad dal and the verdant embrace of Colocasia leaves, graces tables with its rich and aromatic gravy. Its prominence flourishes during festive gatherings and cherished occasions. The culinary artistry unfurls as Urad dal paste finds its sanctuary within tender Colocasia leaves, undergoing the alchemy of steaming and frying. A rendezvous with hot rice unveils the sumptuous layers of this gravy, a masterpiece in itself. The blend of flavors captures the essence of celebration and taste, painting a vivid portrait of culinary delight.
Aamat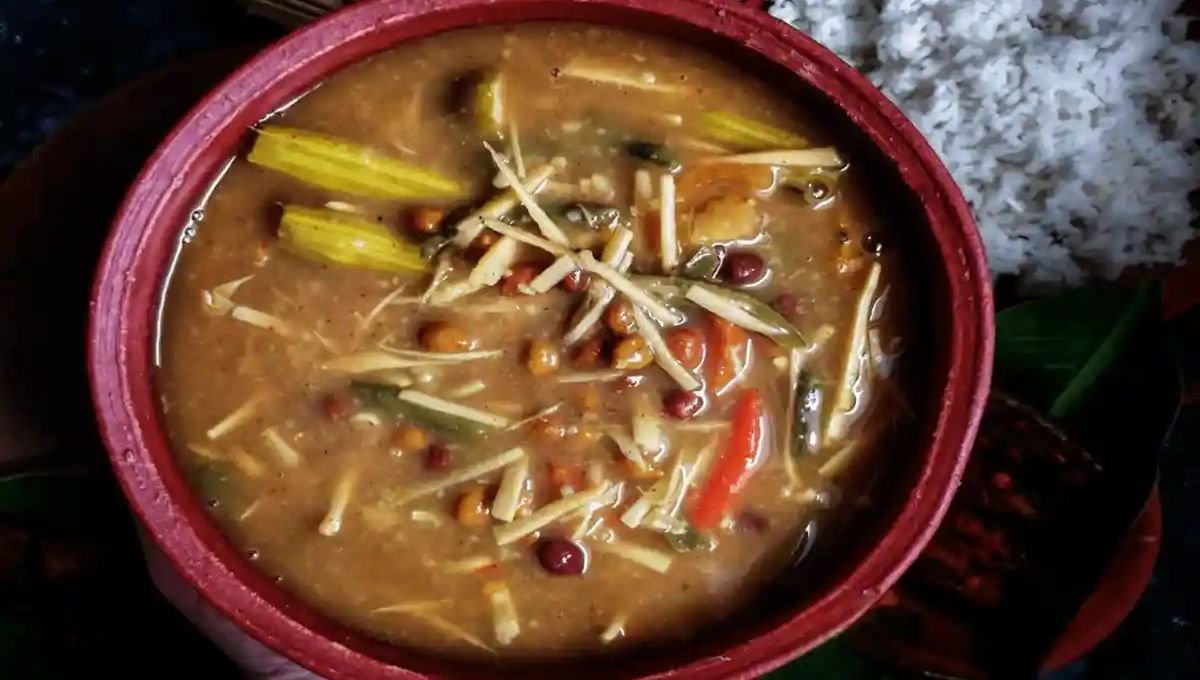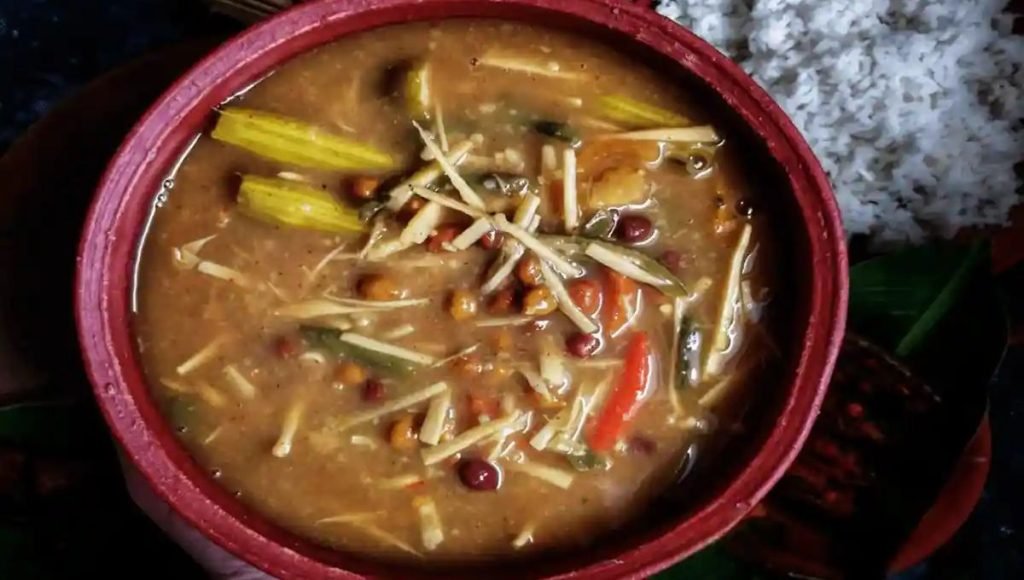 Aamat, a vegetable curry woven from an array of vegetables and aromatic spices, stands as a time-honored gem in Chhattisgarh's culinary tapestry. What sets this dish apart is the inclusion of bamboo shoots, lending it a distinctive and captivating essence. In some echoes, Aamat can be reminiscent of the regional "Sambar," yet the infusion of bamboo bestows upon it a character uniquely its own. This dish transcends the realm of taste, immersing diners in a symphony of flavors that celebrate both tradition and innovation, etching a flavorful mark in the mosaic of regional cuisine.
Also Read:
Chhattisgarh: A Land of Culture and Heritage